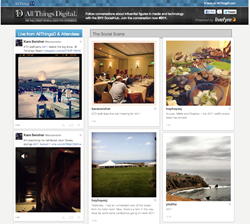 With the D11 SocialHub, anyone can follow the big announcements, memorable quotes and key insights that are sure to come from this year's sold-out event.
San Francisco, CA (PRWEB) May 28, 2013
Livefyre, the leading provider of real-time social software, today announced that it is powering the official D11 SocialHub, which will appear on AllThingsD.com and will feature the latest tweets, Instagram images and editorial posts, live from the annual digital conference held May 28-30 in Rancho Palos Verdes, California.
The D11 SocialHub will curate social content from AllThingsD editors, D11 attendees and speakers which include digital and media heavyweights such as Apple CEO Tim Cook, Twitter CEO Dick Costolo, Pinterest Co-Founder Ben Silbermann, Facebook COO Sheryl Sandberg, Tesla Motors CEO Elon Musk, and President of Disney/ABC Television Group Anne Sweeney. Those who aren't able to attend the exclusive event can join the online discussion by using #D11 when posting to Twitter and Instagram.
"Each year at D:All Things Digital we bring together the most innovative minds in the media and technology space. We wanted to create an online destination where our attendees and readers could follow what's happening at the conference in real-time and share their thoughts, reactions and social commentary in a visually social format," said Lia Lorenzano-Kennett, General Manager, D: All Things Digital. "With the D11 SocialHub, anyone can follow the big announcements, memorable quotes and key insights that are sure to come from this year's sold-out event."
Livefyre founder and CEO Jordan Kretchmer commented, "Our curated SocialHubs bring a new information layer to live conferences, creating new ways for attendees and users to immerse themselves in the event and discover new ideas and opinions. We're proud to be powering social curation for one of the country's most prestigious and thought provoking digital conferences and look forward to seeing the incredible social content that will be generated over the next three days."
Users can follow the D11 SocialHub beginning now through May 30 at http://allthingsd.com/d11socialhub/
About Livefyre
Livefyre is bringing social to the rest of the web, helping brands build engaging real-time conversations and community around their owned content. The company's suite of real-time products are defining a new breed of web and mobile experiences that boost website traffic, increase user engagement and drive revenue. As the sixth largest network online, Livefyre is powering real-time social experiences for over 200 leading brands including American Idol, AOL, Bravo, CBS, Conde Nast, Dow Jones/WSJ, FOX, Newsweek/Daily Beast, Showtime, Sports Illustrated and The New York Times.
Founded in 2009 with offices in San Francisco and New York, Livefyre was named one of the best places to work in the Bay Area by the San Francisco Business Times. For more information, visit http://www.livefyre.com.
About D: All Things Digital
The Wall Street Journal's AllThingsD (http://www.allthingsd.com) is devoted to news, analysis and opinion on technology, the Internet and media. Co-edited by Walt Mossberg and Kara Swisher, the site is the online extension of the annual "D: All Things Digital" conference started by Mossberg and Swisher in 2003 and attended by the digital elite. The award winning site is a mix of columns, blogs, product reviews and video — featuring a stable of smart, insightful and dedicated writers creating a vibrant fusion of different media styles, topics and formats.