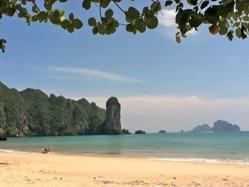 Even in the worst case scenario, it is still possible to enjoy the sights of Krabi
(PRWEB) May 28, 2013
The off-season (or "green season" as it is known) in Krabi, Thailand's popular beach destination, runs from May through October. The islands are deserted; beachfront restaurants quiet; and accommodation much cheaper. It sounds ideal, but there is a catch: this time of year is also monsoon season, which can bring periods of rain and even tropical storms, though clear blue skies are still the norm.
With no way of predicting when it will pour, it's a bit of a gamble to visit Krabi at this time. For those planning a vacation, Krabi Riviera, Krabi's leading provider of luxury serviced pool villas, offers three simple pieces of advice to ensure any green season holiday is not a wash out.
1. Book the best hotel you can afford
If it does rain, a hotel with great in-room facilities, or a spa, will pay benefits. Better still, book a private villa – Krabi has plenty – which will allow room to spread out, so that families don't get under each other's feet if stuck indoors.
Hotels in Krabi universally reduce their prices over the green season; some also offer promotions and deals, such as "stay 4 nights, pay 3", so there are bargains to be found. Online research before booking will reveal the best offers. For example, Krabi Riviera Co. Ltd is providing a further 15% discount on any villa booking, for a limited time only, in addition to its normal green season rates.
2. Book tours last minute
As the weather is an unknown, book tours or sightseeing excursions in Krabi a few days prior to departure, and after checking the forecast. Most day trips can be booked online up to 24 hours ahead of arrival, which will ensure activities such as island hopping are not scheduled on a day with heavy rain.
3. Have rainy day activities planned
In the rare worst case scenario, with no sun at all, it is still possible to enjoy the sights of Krabi. For those who don't mind getting wet, kayaking is a popular activity – and some say the mist in the canyons only adds to the experience. Scuba diving is an (almost) all-weather sport; a visit to Tiger Cave Temple, or the Marine Conservation Centre, are other examples of trips that can be done at any time of year. Many travelers rent a car and explore inland, stopping at markets to sample local food. Indoor activities include spa treatments, or a Thai cookery course. For more on these and other rainy day activities, please visit the Your Krabi website.

Krabi Riviera Co., Ltd is Krabi's leading operator of luxury serviced pool villas since 2000
YourKrabi.com is a Krabi-based online travel agent, providing tailor made holidays since 2004