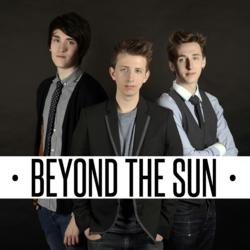 Beyond the Sun's' CD called 'My Kind of Crazy' is one of the most sellable, commercial, musical, catchy, clever, singable, and just plain fun-fun-fun CDs I have heard in a long, long, long time! I just love it!" - Jon Aldrich Professor/Songwriting, Berklee
San Juan, Puerto Rico (PRWEB) May 29, 2013
BTS continues to gain notable interest, thanks to Hot102 FM from a rapidly growing fan base in Puerto Rico with more than 127,000 views on their video "My Kind of Crazy". The Canadian pop rock trio has been invading the US radio charts with their title track, My Kind of Crazy on over 55 Top 40 Radio Stations. My Kind of Crazy remained in the Top 40 on the U.S. R&R Indicator charts for seven weeks, the Top 10 on the Top 40 New Music Weekly Chart for eight weeks, peaking at #5 and on May 5th, broke into the Top 100 on the Top 40 Mediabase chart.
"Beyond the Sun's' CD called 'My Kind of Crazy' is one of the most sellable, commercial, musical, catchy, clever, singable, and just plain fun-fun-fun CDs I have heard in a long, long, long time! I just love it!" - Jon Aldrich Professor/Songwriting, Berklee College of Music, Boston.
BTS would like to express their gratitude to the entire team over at Hot102 FM for their support on this record. They never imagined their first radio single would break on the Island of Puerto Rico, however, when they continued to see the requests and love pouring in on a daily basis on YouTube and Twitter from their new PR fans, they contacted Hot102 and together they began to put a plan in motion.
Beyond the Sun is ecstatic to announce they're coming down to perform at two events. Their first concert will be on Friday July 5th at the Caribe Hilton Hotel Expo Center, 1 San Geronimo St. San Juan, PR with special guest, DJ King Arthur at 7pm. This all ages event will give fans everything they've been asking for, which will be an up close and personal concert experience , with up to 80 exclusive VIP Meet & Greet Tickets available. Tickets will start at 20.00 for general admission and VIP ticket details including prices will be announced shortly on the band's website which can be purchased through Ticket Center beginning June 3.
Their second performance will be in Ponce, Puerto Rico on Saturday July 6th at Hot102's Wild Summer Festival with The EKG's, La Pepa, DJ King Arthur and DJ Xtasys beginning at 8 pm and this spectacular anniversary event is free.
The fresh, energetic and heartfelt music of Beyond The Sun celebrates the Canadian band's belief that lyrics and melodies can tell an on-going, universal story and help human beings connect powerfully through their many diverse experiences. Through catchy yet personal tunes that sparkle with infinite layers of harmony, guitarist Phil, lead vocalist Colin and drummer Dalton unleash tunes that resonate personally with their audiences. After forming Beyond The Sun, the trio immediately garnered the attention of audiences throughout its home country and elsewhere. Along with maintaining an ambitious schedule of live shows, each member continues to fine-tune his proficiency at his instrument, with two members formally studying at the prestigious Berklee College of Music in Boston and the other studying at the Ken Tamplin Vocal Academy in Los Angeles.
For more information about Beyond The Sun, the band's music, videos, upcoming tour details, to join the mailing list and connect via Facebook , or Twitter visit http://www.beyondthesunmusic.com You can purchase My Kind of Crazy directly through iTunes and Amazon, or through the official Beyond The Sun website.