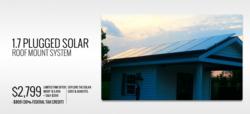 "Great Product!! Works as described right out of the box and starts saving-making $$ as soon as you plug your system in… Simple and easy instructions and plenty of support for those questions the home owner might have. P.D., Long Island NY
Houston, Texas (PRWEB) May 29, 2013
PluggedSolar uses breakthrough technology to make solar panels simply plugged into the household electric plug socket while following the local utility requirements. As per US Department of Energy plug-n-play solar program (ref: "Going Solar in Record Time with Plug-and-Play PV", April 24, 2012), the aim was to make solar energy in the category of appliance, ready to plug in. There was speculation that half of the solar panel installation goes for installation costs and non-materials costs. Even though the solar panels cost have gone down recently, the installation cost outweighs the cost of solar equipment. PluggedSolar, patent pending product, is designed as 'do it yourself (DIY)' kit which removes the installation cost. The homeowners can use their weekend time to install it themselves or call a local handyperson to do the work. It takes typically a day to install the system.
Plugged Solar is similar to the standard solar photovoltaic panel system where the DC power from the solar panel is converted to AC power using grid tie inverter, while interacting and synchronizing with the utility grid. The typical residential systems are of 240VAC, requiring a professional electrician to do the high voltage connections. Plugged Solar is 120VAC system with the plug at the end to plug in. The largest system is below 1.8KW, within the limit of a plug socket. The technology includes the voltage conversion box from 240V AC to 120VAC, which is the voltage for a regular appliance that can be simply plugged in. This saves the installation costs, lowering the cost of solar energy and making it at par with the traditional electricity cost.
The utility prime requirements are UL approved for the grid tie inverter with the anti-islanding feature; if there is a power outage, the solar panel system stops its power generation instantly. Plugged Solar has UL approved grid tie inverter. The PluggedSolar uses the existing indoor 120VAC dedicated lines to bring the solar electricity for home use. Any remaining electricity goes to the utility grid, providing the energy credit, rotating the meter backwards. Utilities have understood the technology and benevolent mission behind the product and started providing the support by approving the interconnection application. PluggedSolar support team helps customers in getting this approval from utility company.
Inventor of PluggedSolar technology, Sunil Sinha, says "Now every household can enjoy the benefits of affordable solar energy." The 30% federal Tax credit and state level benefits make solar cheaper than the conventional electricity, saving the environment. The PluggedSolar pays itself in average 2 years with solar panels expected life of more than 25 years.