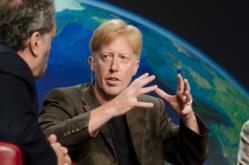 In a conversation with Dr. Kevin Montgomery, he described Collaborate.org -- 'Collaborate.org combines an integrated suite of collaboration tools coupled with all of the world's geospatial data at your fingertips'.
San Jose, CA (PRWEB) May 28, 2013
Considered as "the best technology conference in the world" by the Economist magazine, the Future in Review conference is one of the most widely recognized event of its kind. With an audience spanning the globe, the Future in Review event is where thought leaders learn about upcoming trends in a number of different industries.
As part of this year's event Intelesense Technologies CEO Dr. Kevin Montgomery demonstrated his latest product – Collaborate.org. In a conversation with Dr. Montgomery prior to the event, he described a number of features that are currently available with Collaborate.org. "Collaborate.org combines an integrated suite of collaboration tools coupled with all of the world's geospatial data at your fingertips."
Collaborate.org is a cloud based big data application that currently offers its members features including:

Customizable dashboards that can provide easy configuration of the features that matter to the groups who operate a given portal
Blogs and notebooks for individuals who are interested in sharing information such as traditional blogs, group discussions, announcement lists or even wikis to help with sharing information related to their project(s)
Color-coded Calendars that can be used to track events, milestones or other important dates
Task lists to facilitate program management and task delegation, including the ability to assign tasks to multiple people and track their progress in real time
On-line storage so individuals and groups can organize, store and share files with others inside their group or across the Collaborate.org community as a whole in a variety of commonly used document, graphic and audio formats, GIS layers, satellite and aerial imagery
Feed reader that will provide individuals with real-time news updates from a variety of traditional news sources as well as commonly used social media networks such as Facebook and Twitter
Videoconferencing to assist users inside a group or members of a portal with real-time communications between these different individuals including live video and audio feeds, a virtual whiteboard as well as screen sharing capabilities
Layer manager with over 2.2 million data layers (equivalent to about 5-10PB of data)aggregated from sensor networks, GIS data, news and social media feeds, as well as satellite and aerial imagery. Members of Collaborate.org can upload and share additional layers within the Collaborate.org community or exclusively within their group
Support for a number of 2D and 3D geospatial viewers, including InteleView5, the world's first major HTML5/WebGL-based world explorer. Users can use InteleView5 to zoom to any location on the planet, browse the layers of geospatial data based off data selected in the Layer Manager listed above, rotate the view as well as zoom to specific locations, as well as use a number of measurement and analytical tools.
Initially Collaborate.org can be accessed by anyone with a Personal Computer (PC or Mac), smartphone or tablet (Android or Apple) that has a connection to the Internet with support for other platforms and devices as time progresses.
For more information related to Collaborate.org, send an e-Mail to info(at)intelesense(dot)net or visit the Collaborate.org site at http://www.collaborate.org.
About Collaborate.org:
Developed by engineers from Stanford University, NASA, and other groups in the Silicon Valley, Collaborate.org is the industry's next generation information sharing portal. It combines advanced collaboration tools with the most advanced geospatial browser technologies on the planet. As of May 22, 2013, the Beta release of Collaborate.org platform is currently available for individuals and groups to evaluate. For more information, send an email to info(at)intelesense(dot)net.