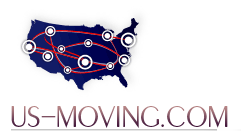 This is a no cost, no obligation service that expertly matches budget and needs with moving companies that have a proven standard of trust that warrants them worthy of considering their moving quote
(PRWEB) May 29, 2013
When planning a move, most customers likely will obtain moving quotes from a few moving companies before choosing the one that best fits their needs. There are many moving companies, but are all of them reliable? Are they all insured, licensed, bonded and capable of meeting all moving needs? The obvious answer is no. http://www.US-Moving.com provides the security in knowing that they have pre-screened each and every moving company available within their online instant moving quote database system.
The instant quote system is designed to save time, reduced unexpected costs and also help ensure that the moving company chosen can meet any additional moving requirements, such as auto transport, specialty transport of art or antiques, piano moving or self storage. This is a no cost, no obligation service that expertly matches budget and needs with moving companies that have a proven standard of trust that warrants them worthy of considering their moving quote.
By providing information on the size of the move, route and timing, they can provide customers with an accurate quote, in order to avoid those unexpected hidden costs. Whether moving across the street or across the state, choosing a reputable moving company can save thousands in damaged goods and time lost.
US-Moving offers online moving and relocation services to and from anywhere within the United States. They provide access to instant moving quotes from their database of pre-screened expert moving companies that can manage all moving needs and meet most budgets. When planning a move, this is a reliable source that will save time and money.