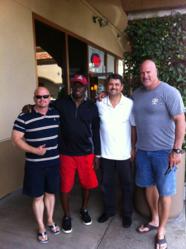 We want to make it fun to learn about sleep apnea and find the most professional, qualified doctors to treat patients across the country.
San Diego, CA (PRWEB) May 28, 2013
The thrill of watching the controlled violence of a professional football game is a singular experience. The rigors of a single down of NFL football can leave the participants functionally disabled for the rest of their lives. The game of football has evolved over the years and the modern game has required football players to be bigger, faster, smarter, and hit harder than ever thought possible in the past. The net effect of all of this shows up, not on the field, but many years later. A Mayo Clinic study showed that over 60% of former NFL players have sleep apnea. It is for this reason David Gergen, President of Gergen's Orthodontic Lab, took a bold risk in forming an alliance with NFL alumni by spreading awareness and providing ways for treatment to sleep apnea patients across the country. Gergen calls this new team Pro Player Health Alliance (PPHA) and has named the national campaign "Tackling Sleep Apnea".
"I am thrilled to see the momentum that we are making to help spread awareness of sleep apnea on a national level with these fantastic NFL greats!" said Gergen. "Spreading awareness at these events and screenings and through radio and television has been wonderful. I believe by spreading awareness we can save lives."
Although CPAP devices reduce overall apneic episodes, the oral appliances have shown to have higher adherence among patients. This goes to show there is no "better treatment" for sleep disorders; dealing with one's sleep is such a unique situation that the treatment for sleep disorders is dependent upon the patient's needs. Dr. Eli states, "I believe the diagnosis of sleep disorders is complex and multi-dimentional, requiring a specialized physician, much like cardiology or neurology. The treatment options now are equally multi-dimentional requiring an expert who understands all the options and treatment. As a head and neck specialist, I'm well-qualified to present all the options to my sleep patients and expect outcomes above the national norm."
In order to give others the best sleep possible, awareness has to be raised in the public communities throughout the country on what a good night's sleep actually is. Many people are unaware that they need to seek treatment as it has become customary for individuals to feel tired throughout the entire day. This is due to the stress put on the body from not being able to breathe for up to 10-15 times per hour while asleep.
Dr. Eli is one of the most qualified doctors to treat sleep apnea in southern California and has been trusted by Hall Of Fame NFL players to provide them with a better night's sleep. Pro Player Health Alliance and Dr. Bradley Eli have easily become one of the best teams yet in the fight against sleep apnea. For more information and how to contact Dr. Eli, visit http://www.drbradeli.com