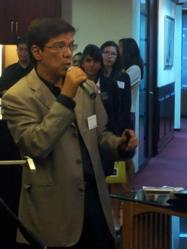 "As an office solutions provider, we aim to provide our clients a platform to grow in many aspects of their business and we encourage others to join our growing family."
Kuala Lumpur (PRWEB) May 30, 2013
Servcorp Malaysia, a provider of premium virtual and serviced offices in Kuala Lumpur, is rolling out a series of business networking events with specially invited key Malaysian business professionals, in addition to their existing cultural events held each holiday season.
In April, Servcorp invited famed motivational speaker, vocal coach and former radio presenter Richard La Faber, also known as the Man With The Golden Voice, to conduct "Business Shorts," a business event presented around the topic of networking. The event, held at their Menara Citibank office in Kuala Lumpur, served to help people in business to hone their communication skills using the right tone, words and body language.
A Servcorp Malaysia representative commented further, "This will just be the first few in a series of exciting business events we will be organizing for our clients. As an office solutions provider, we aim to provide our clients a platform to grow in many aspects of their business and we encourage others to join our growing family."
For a limited time, Servcorp Malaysia is offering their MAY MAYHEM offer – 12 months 50% off* until 31 May 2013 only! Ask us about the offer today by going to http://www.servcorp.com.my/contact-us/.
ABOUT SERVCORP
Servcorp was founded in 1978 and is well known as a leading provider of premium office spaces worldwide. With an extensive network of locations, the company offers serviced offices, meeting rooms and virtual offices in most major cities in the US, Europe, Middle East, Asia, Australia as well as New Zealand. In Kuala Lumpur, Servcorp has serviced offices at Menara Citibank and Menara Standard Chartered.