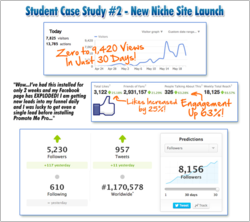 "...In many ways, the old ways of SEO are dead and entrepreneurs have to be adaptable, as we are in many other areas of business..."
Hesperia, CA (PRWEB) May 29, 2013
Google's latest release of their anti-web spam algorithm named "Penguin 2.0" has caused unquiet in the online community.
The constant battle to clean up Google's results has left many smaller entrepreneurs and site owners reeling after the latest round of changes have lowered their search engine rankings and reduced their traffic.
Sean Donahoe, a industry leading authority on SEO (Search Engine Optimization) commented.
"While Google has an obligation to it's users to make it's results more relevant and provide a better experience, it does make smaller business and site owner's jobs much harder to compete with the larger companies with bigger marketing budgets."
Indeed, with the focus on "Authority Signals" and many quick-fix solutions and software that do more harm than good, many online entrepreneurs get a false sense of infallibility when it comes to these magic-bullet tools.
The net effect is that Google's web-spam team is quick to adapt to these tricks and methods of gaming their rankings and once the hammer is dropped, so do the rankings and reputations of the affected sites.
"There used to be a huge reliance on backlinks, links from other sites that act like a vote in a popularity contest. However, it became too easy to create false votes for your own site," Sean explained.
"Google is rapidly switching it's focus to a site's 'Social Footprint' as it's content is shared, discussed and spread across the net via popular Social Networks. In many ways, the old ways of SEO are dead and entrepreneurs have to be adaptable, as we are in many other areas of business. If you can become an authority and influencer in your social sphere you can not only engage your audience directly and build a great deal of trust to compel action, the search engines reward that level of engagement with better rankings."
Sean added "We have seen a huge shift in the last 12 months with the various animals from Google's Zoo and the online entrepreneurs who are focusing on effective social media marketing are reaping the rewards while their competitors are falling behind and dropping off the business horizon,"
With Matt Cutts, the head of Google's "Web Spam" Department regularly tweeting out upcoming warnings and going after many online services and tools that aid entrepreneurs in manipulating their results, the move towards Social Media Marketing and the importance of Social Signals will continue to grow.
"We are actually in the process of releasing some software that can help entrepreneurs manage and automate their Social Media presence without the need for costly, and in many cases, dangerous tools that risk a business owner's online revenue streams." explained Sean.
"Our focus has always been on finding a balance between a strong level of automation and delivering what users want. We find that when we cater to the end user's needs and our clients customers needs our strategies and solutions give the search engines exactly what they want to see."
About Sean Donahoe
Sean Donahoe is the owner and creator of the IM Success Center, a site dedicated to helping online entrepreneurs elevate their online business. His company recently launched the "Promote Me Pro" platform for Social Media Management and Automation and it is available from http://promotemepro.com