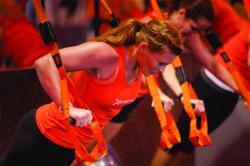 (PRWEB UK) 29 May 2013
David Lloyd Leisure has signed an exclusive deal with the US company behind Orangetheory® Fitness to launch the revolutionary interval group training concept at its latest high street studio in a UK health and fitness industry first.
Europe's premier health, sports and leisure group will unveil the Orangetheory group training fitness programme at its third David Lloyd Studio, which is due to open in Islington, north London, in August 2013.
Orangetheory Fitness has taken the States by storm with what is the country's first franchise studio concept to use heart rate monitored training for scientifically proven results. Last month, it achieved its 100th US franchise in three years.
Orangetheory is a fun and effective workout for up to 24 adults, of all ages and ability, designed to help achieve personal fitness goals. Each unique 60-minute session comprises intervals of cardiovascular and strength training, producing a huge metabolic increase and burning up to an average of 900 calories per session with extra calorie burn for up to 36 hours after each workout.
The programme features three components - treadmills, rowing machines and weight training blocks - with sessions set to upbeat music and using heart rate monitors to track performance and optimise cardio and resistance training. Benefits include weight loss, improved fitness, increased stamina and muscle endurance.
Hazel Geary, David Lloyd Leisure's product development director, said: "We are very excited to have reached this deal with Orangetheory Fitness, a company that has been achieving incredible growth in the US, to bring its groundbreaking interval fitness programme to the UK market.
"David Lloyd Leisure is always seeking new and innovative ways to enable people to achieve their health and fitness goals, and there is a tremendous buzz around Orangetheory - a one-of-a-kind workout that has been proven to offer amazing results.
"Our David Lloyd Studio concept aims to give time-pressed clients of all fitness levels easy access to exercise and nutritional services as part of their daily routine, and Orangetheory fits absolutely perfectly with our core objectives."
David Long, CEO and partner at Orangetheory Fitness, said: "We are thrilled to partner with such a high-quality brand, and the industry leader in the UK, to bring the Orangetheory Fitness concept to their market. We look forward to seeing a new region of the world embrace the Orangetheory workout."
David Lloyd Leisure launched David Lloyd Studio in September 2012 - the first initiative of its kind by a major health and fitness operator in the UK.
David Lloyd Studio provides clients with David Lloyd Leisure's internationally renowned expertise in high street locations on a non-membership basis, with flexible payment options offered.
Two studios, providing personal training, group training, David Lloyd Leisure's Lose & Shape Up weight loss programme, exercise classes, running clubs and physiotherapy, have already opened in Putney, south-west London, and Winchester, Hampshire.
David Lloyd Studio – Orangetheory group training in Islington will offer clients flexible payments – blocks of 10 sessions or pay monthly. Services will include Lose & Shape Up, a 12-week specialist course, featuring group training and nutritional guidance, to help clients lose weight and tone muscles via a 'whole body' approach.
David Lloyd Leisure has invested £500,000 in the three initial sites with further sites planned.
For further information on David Lloyd Leisure, see http://www.davidlloyd.co.uk
Note to editors: For further information about this press release, contact the David Lloyd Leisure press office on 01707 289833/4 or email press(at)davidlloyd(dot)co(dot)uk.
About David Lloyd Leisure Group
The David Lloyd Leisure Group operates 81 clubs in the UK and a further 10 clubs across Europe, plus the new high street concept, David Lloyd Studio, in Putney and Winchester. It has over 440,000 members and employs 6,000 people. This includes an expert health and fitness team of over 1,800, while it contracts the services of more than 400 tennis professionals. Across all clubs, David Lloyd Leisure has over 150 swimming pools (of which half are indoor) and offers over 10,000 exercise classes per week. Every week 20,000 children learn to swim at David Lloyd Leisure and 14,000 learn to play tennis. Its racquets facilities are unparalleled with 700 tennis courts as well as 180 badminton courts and 140 squash courts. Additional facilities include health and beauty spas, club lounges with free internet access, crèches, nurseries and specialist sports shops.
About Orangetheory® Fitness
Orangetheory® Fitness (http://www.orangetheoryfitness.com) is a one-of-a-kind, group personal training workout broken into intervals of cardiovascular and strength training. Backed by the science of excess post-exercise oxygen consumption (EPOC), Orangetheory's heart-rate-monitored training is designed to maintain a target zone that stimulates metabolism and increases energy. Led by skilled personal trainers, participants use a variety of equipment including treadmills, rowing machines, SBT Suspension Training and free weights, burning up to an average of 900 calories per session. The result is the Orange Effect -- more energy, visible toning and extra calorie burn for up to 36 hours post-workout. In March 2013, the company achieved its 100th US franchise in three years.