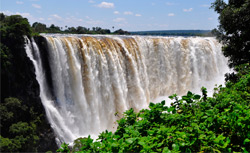 (PRWEB UK) 29 May 2013
Experts in African travel – Freedom Africa now boast another exciting tour for the adventurous traveller to pursue after launching their exclusive Victoria Falls Discovery expedition – an amazing experience to get up close and personal with the Smoke that Thunders on Zambia holidays.
Revered around the world as a truly spectacular wonder of nature, Victoria Falls resides on the illustrious Seven Natural Wonders of the World list and witnessing the gigantic curtain of falling water – which pummels down for a distance 108 m at the waterfalls centre – for real truly is an unforgettable experience which can be enjoyed for excellent value for money at £299 per person.
Located on the Zambia / Zimbabwe border, travellers really do receive the best of both worlds on this tour and by choosing Freedom Africa for their flights to Africa, they can be assured of a fulfilling trip with the Victoria Falls Discovery tour ideally split across three action-packed days which intermingle luxury relaxation with an overall sense of adventure and escapism.
After travellers touch down at Livingstone Airport they will be swiftly transferred to their accommodation – the Zambezi Sun Hotel where recuperation can take place before the tour takes shape. The accommodation is perfectly situated within walking distance of Victoria Falls itself and you may even be able to hear the rushing water in the distance as you pack your camera, binoculars and bottled water for the second day of the tour.
Following on from a wholesome breakfast, travellers are able to appreciate the centrepiece of the tour – the falls themselves via the loyal assistance of insightful and helpful guides that are more than happy to provide facts, statistics and stories surrounding the falls' history as well as informing visitors about the best spots to capture the falling water in all its glory.
The Victoria Falls Discovery tour really comes into its own in the evening of the second day however as this is when travellers are entitled to a trip on the African Queen – a vessel that proudly patrols the waters of the Zambezi and at sunset to boot ensuring an idyllic end to a day jam packed full of everlasting memories.
Day three isn't simply about reflection. For those exploratory souls, travellers who allow for extra time ahead of their flight can discover the streets and surrounds of Livingstone – the former capital of Zambia – whereby an overwhelming sense of traditional African culture will prevail, adding even further versatility to your adventure tour.