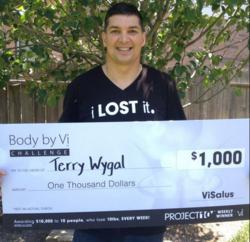 ...My energy and metabolism is higher than it has been in decades now...
Humble, TX (PRWEB) May 31, 2013
ViSalus and the Body By Vi™ Challenge, the #1 weight-loss and fitness challenge platform in North America announced local Texas firefighter Terry Wygal as the $1,000 Project 10 winner earlier this month.
The company announced the contest as a part of its Body By Vi 90-Day Challenge. Project 10 was developed to help recognize and motivate people to lose that first 10 pounds which is often the most difficult. After studying millions of transformations the company believes the secret to weight loss success lies in losing those first 10 pounds.
This week the company celebrated firefighter Terry Wygal as the Project 10 winner.
"Getting the phone call informing me that I was named as the Project 10 Winner was pretty incredible. I know that there are literally thousands of people that entered the contest and I was honored and humbled that I was chosen."
Wygal, who recently created http://www.TheWorkoutofTheDay.com, said that he has lost a total of 32 pounds and went from a size 40 pants down to a size 34.
"I realized that as a firefighter it wasn't a good thing to be out of breath after climbing just a couple of flights of stairs. Even though I thought I 'carried it well' I was actually overweight. Like a lot of people I had been physically inactive for many years. Now my energy and metabolism is higher than it has been in decades."
Learn more how about how Terry lost his first 10 pounds and 32 pounds overall at http://www.TheProject10Winner.com.