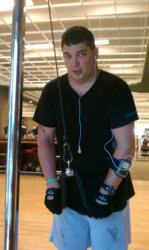 ...Regardless of your current fitness level there is a workout for you...
Humble, TX (PRWEB) May 29, 2013
While trying to work his way back into shape, Local Texas Fire Fighter Terry Wygal started to look for a free exercise routine that he could start on and progress his way up.
What he found instead were a ton of ripped up and beefed up bodybuilder routines that he found almost impossible to do:
"I went in search of a good starting spot for my workout of the day and what I found were some extremely complex routines," Wygal stated. "So I did some consulting with some fire department members across the country and found guys that had certified fitness instructors, Crossfit instructors, members of the military, MMA fighters and decided to put together those resources into one spot, and so TheWorkoutOfTheDay.com was born."
What started out as a beginning for guys looking to get off the sofa and stay-at-home moms trying to get their figure back has developed to an online daily workout resource for all levels of fitness.
"I soon developed a following of average Joes and soccer moms that just wanted to get back into shape – but the more competitive and extreme athletes, the Crossfitters and Tough Mudders for example - they wanted something more challenging, so we have put together some pretty complex daily exercises for them as well."
What started out as a quest to drop a few pounds quickly developed into little 90-day challenges for Wygal that resulted in a Tough Mudder, several 9/11 5k's, 2 of them in fire fighter bunker gear, and a hero rush 5k run. Wygal commented, "Regardless of your current fitness level, couch potato, soccer mom, marine, Crossfitter or MMA fighter, we got you covered and there is a workout for you at TheWorkoutOfTheDay.com