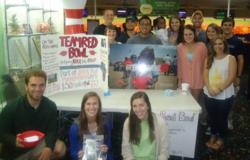 "It takes only $5 a month to feed and educate an African child for a year,'' said Wagner. "For only $5 a month you can save a life of a child."
Washington, DC (PRWEB) May 30, 2013
Luke Wagner, captain of the Georgia College Team Red Bowl stated, "I became involved in Team Red Bowl because I saw the suffering of the children in Africa and I wanted to do something to help." Through his efforts, Luke mobilized other students on campus and together they came up with their own ideas for fundraising.
They hosted a table at the campus Springfest and over 40 potential freshman signed up, indicating they were interested in learning more about Team Red Bowl and the work of JAM. "By helping spread the message of Team Red Bowl we hope to help alleviate the cycle of poverty in Africa and help the children create a better future for themselves," stated Wagner.
The team was recently accepted as an official campus organization, allowing them to advertise on campus, create more fundraisers and collect donations on an on-going basis. To date they have raised over $1,500 for their Team Red Bowl organization.
 
The iconic red bowl is used in the school feeding programs of JAM and has become a symbol of hope throughout Africa. Team Red Bowl, named after this icon, is a JAM fundraising program where members are encouraged to create their own fundraisers. Team Captains lead a team dedicated to fill 200 red bowls daily. For families living in communities where JAM school feeding programs are prominent, red bowls are filled with a nutritious meal each day at school for children. These red bowls are transforming the lives of children in five African countries.
"It takes only $5 a month to feed and educate an African child for a year,'' said Wagner. "For only $5 a month you can save a life of a child."
To become a Team Captain go to:  http://www.jamint.com/usa and click on the red bowl.
About JAM:
JAM (Joint Aid Management) is an African humanitarian organization with over 28 years providing feeding programs within schools, assistance to orphans and vulnerable children, the provision of water and sanitation, as well as skills development, community training on agricultural development, income generation projects and HIV/AIDS programming.
For more information go to  http://www.jamint.com/usa Follow us on Facebook:  JAM - USA