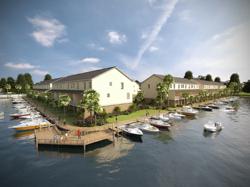 New homes cannot be built fast enough.
Poole, Dorset (PRWEB UK) 29 May 2013
According to data recently released by the National Association of Realtors, US home sales have risen to 4.97million in April – the highest levels since November 2009. The number of properties on the market has risen to 2.16 million as more people are enticed to sell whilst property prices are increasing.
Median prices hit $192,800 in April; the highest since 2008 and with borrowing costs at record lows – combined with an improving job market – more Americans are being encouraged to buy houses.
After a 13-year low in 2008, home sales are recovering, Gennadiy Goldberg, US Strategist at TD Securities comments on the market. "Underlying buying trends remain broadly positive, with distressed sales as a percentage of total purchases falling."
Rising home values have also resulted in the national negative equity rate falling in the first quarter of 2013 according to the Zillow Negative Equity Report. This will only further fuel more people to sell across the country, whilst others will wait for values to increase further as they may still not have enough equity in their properties to afford to move.
Experts say that it is only a matter of time before the situation improves further as rising home values are continuing to build equity to the point where more home owners can realistically sell.
Inventory across the country is still low, which is only fuelling demand further. As a result new homes cannot be built fast enough.
Select Resorts, working with Global Real Estate Group, are currently offering for sale a number of new build waterfront properties in Florida. Investors have been eager to purchase given the current market position and properties have been selling fast. The development boasts boat docks for boats up to 23ft long, the promise of fantastic rental yields and a fantastic lifestyle. Mortgages are now also available on the project, making it an even more attractive proposition.
Full details on the project can be found at: http://www.selectresorts.co.uk/properties/Callista_Cay_Florida/
Notes to Editors:
About Select Resorts
Anyone looking to invest funds into property or land abroad should contact Select Resorts. An established company with over 30 years' experience in the industry, the dedicated and passionate team offer the service one would expect from a company giving expert advice on a vast range of international property areas to assist in reaching more profound decisions on purchasing overseas property and land.
The only UK based associate of Savills International and a member of the AIPP (Association of International Property Professionals), Select Resorts offer in-depth knowledge and experience to meet the needs of overseas real estate investors. Buyers can invest safe in the knowledge full and thorough due diligence has been undertaken on all projects offered for sale.