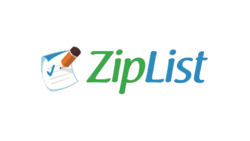 Sterling, VA (PRWEB) May 28, 2013
ZipList, Inc. (http://www.ZipList.com), a Condé Nast company and leader in online and mobile shopping lists and recipe boxes, announces a new partnership with Serious Eats, the prolific food website group with millions of devoted followers. Serious Eats is now fully integrated with ZipList, enabling users to save their favorite Serious Eats recipes, build grocery lists, search for grocery deals, and access their saved recipes from anywhere -- smartphones (Android and iOS), computers, and from thousands of websites where ZipList is already integrated. ZipList seamlessly connects recipe content across 365 publishers and 15,000 blog partners so that users can access any recipe they've saved, or any shopping list they've created, regardless of which website they are browsing.
Serious Eats is a family of websites that covers everything edible around the world, from the best hot dog in Chicago to a once-in-a-lifetime meal in Vietnam. Serious Eats was founded by New York Times food writer Ed Levine and has received a variety of recognition, from being named one of TIME magazine's 50 Best Websites to receiving two James Beard Awards. With over 2 million unique viewers each month, Serious Eats has developed a cult-like following of people who are passionate about food. And now, by partnering with ZipList, fans of Serious Eats can sync up all their favorite dishes all in one easy to access location, on ZipList's Android or iPhone apps, or on SeriousEats.com.
Over 10,000 tasted, tested, and Serious Eats-approved recipes will now be available on ZipList's platform, alongside ZipList's Recipe Box, Shopping List, Meal Planner, and local Grocery Deals, providing a seamless connected experience across desktop and mobile. Through integrating with ZipList, partners like Serious Eats can expect to see an increase in user engagement and referral traffic, as well as an increase in time spent on the site. ZipList also promotes and exposes partner recipes to new audiences across the ZipList network. Prior to this integration, Serious Eats users were only able to 'star' their favorite recipes.
"Serious Eats built a remarkable community of content-driven websites with users who are passionate about being involved in the culinary culture," notes Geoff Allen, founder CEO of ZipList. "ZipList's tools enable Serious Eats users to take even more action on the content they discover on Serious Eats, and allow users to save the recipes that inspire them and create delicious recipes at home."
"With the amount of in-house testing and user feedback that gets built into each one of our recipes, it's no wonder that our community members have been clamoring for a better way to search and store them," says J. Kenji López-Alt, Chief Creative Officer at Serious Eats. "Partnering with ZipList just made sense to us, allowing us to offer some great organizational tools to help users navigate the most reliable free recipe resource online."
ZipList continues to build out their impressive roster of content and advertising partners in the online recipe space, adding 5-8 new partner sites per week. Partners are drawn to ZipList because of the toolset they provide, the simple integration process, and a platform that is wholly hosted and supported by ZipList. Thousands of food blogs have also embedded ZipList's plugin to give their readers universal access to their recipe boxes and grocery shopping lists. ZipList users, nearly 4 million strong, embrace the growing number of ZipList partners with over 11 million shopping list actions and 1.3 million recipes saved in the past month alone.
###
About ZipList, Inc.
ZipList, a Conde Nast company, is a market-leading online and mobile universal shopping list and recipe management service that enables shoppers to create and share grocery lists with family members. Users can arrange their lists by aisle or store, and can save recipes to a central recipe box. ZipList has partner tools, fully-branded white label experiences and SDKs available to enable media, lifestyle, grocery retail and consumer packaged goods properties to incorporate shopping list and recipe box features into their own sites and mobile apps.
Follow ZipList on Twitter at http://www.twitter.com/ziplist or become a Facebook Fan at http://www.facebook.com/ziplist. ZipList is also available as a free mobile app for iPhone and Android users. For more on these mobile apps, visit http://www.ZipList.com/apps.
About Condé Nast
Condé Nast is home to some of the world's most celebrated media brands. In the United States, Condé Nast publishes 18 consumer magazines, four business-to-business publications, 27 websites and more than 50 apps for mobile and tablet devices, all of which define excellence in their categories. The company also owns Fairchild Fashion Media (FFM), whose portfolio of brands serves as the leading source of news and analysis for the global fashion community. Condé Nast has won more National Magazine Awards over the past 10 years than all of its competitors combined. For more information, visit condenast.com or follow us on Twitter @CondeNastCorp.