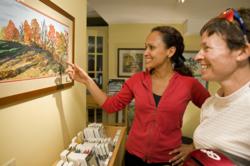 Your attention to detail from chauffeuring us from studio to studio, the morning coffee with treats, and our lunch made it very easy for me to promote any workshop with "Your's Outdoors". I am singing high praises to everyone who will listen to me.
Haliburton, Ontario (PRWEB) May 30, 2013
The Online Art Gallery, MadeInHaliburton.ca, announces its new partnership with adventure in art operator Yours Outdoors. In addition to offering a variety of visual art, literary art and performing art options, the public, with a click of the mouse, can now purchase unique art adventures and packages, which will provide the participant with an unforgettable arts or cultural experience.
Leave all the planning and details to Yours Outdoors and experience the stunning nature, awe inspiring art, fascinating history, fine folk, and warm hospitality of the Haliburton Highlands, Ontario, Canada. Yours Outdoors experience packages are for individuals, couples and small groups looking for distinctive single and multi day adventures. They are fully guided and offer a rich variety of experiential, informative, active, and entertaining activities led by professional guides and involving local experts, naturalists, artisans, and personalities. All packages will get the participants outdoors and offer delicious food, great accommodation, fun, and unforgettable memories.
Barrie Martin, owner of Haliburton's Yours Outdoors, states that "art combined with recreation, heritage, and nature offers truly distinctive adventures that result in lifelong memories and expressions of art." As a self proclaimed experience broker, he works with artists and other community partners to create packages that provide opportunities to appreciate and create art, engage with local folks and connect with the faces, spaces and places that inspire works of art. Many of the packages take the participant behind the scenes and into places not normally accessible to regular travellers.
Initially, the travelling public will have a choice of three distinctive art adventures that give true meaning to the Haliburton Highlands being true to its slogan "a natural work of art".
"Gone to Pot: Adventures in Clay" provides the participant with a hands-on pottery experience including professional instruction in a beautiful, remote studio surrounded by forests, lakes and trees. This is not a normal classroom environment. The experience will result in a minimum of six self-made pottery items to later wow friends and family and provide a lasting memory of this inspiring day. Participants will discover three separate pottery studios and a variety of pottery techniques. There is even a chance to meet Hairy Potter.
"Pedal Your Arts" combines cycling with art appreciation. The bike ride will explore country roads in search of art studios and neat natural and cultural features amongst the forests and rugged landscapes of the Haliburton Highlands. Participants can select from a number of cycling tours suited to the novice or experienced cyclist.
"Some Like It Hot" is for anyone who has ever admired beautiful blown glass pieces and dreamed about creating their own. Spend a day in the studio of a blown glass artist who is inspired by the surrounding natural environment and learn the creative process from start to finish. Take home 4-6 pieces of work that have been personally created. Great instruction, amazing art, good company, and tasty food will have everyone yearning for more. This experience is sure to ignite the inner artist.
Why are such memorable experiences available in the Haliburton Highlands? This area boasts the highest number of working artists per capita when compared to other areas of Ontario, Canada . The landscape painters, potters, weavers, jewellery makers, sculptors, drum makers, dancers, actors, songwriters and musicians work in studios that are speckled around the area much like the rivers, lakes, trees and rocks that surround them.
The establishment of the Highlands' large and vibrant arts community began in the late 1800s, alongside the arrival of farmers, loggers, railway workers, and grist and sawmill owners who settled in this wild, tree covered land with their families. A private pavilion was built at Head Lake where pioneer families gathered for evenings of plays and music. Today, that location is the site of the state of the art Northern Lights Performing Arts Pavilion, home to the Highlands Summer Festival and dozens of other musical and performance events throughout the year. With the arrival of the Haliburton School of the Arts in 1968 and the formation of an Arts Council in 2003, the arts became firmly established in the community.
All tours can be customized to fit the needs of a given group. The tours have minimum participation levels but, exceptions can always be made with a little juggling of itinerary and cost. Just use the "Contact Us" form on the MadeInHaliburton.ca website to identify specific needs and a custom experience will be designed that will never be forgotten. Why not book an art adventure today?