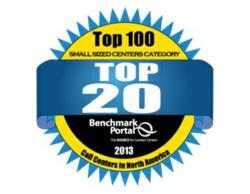 (PRWEB) May 28, 2013
OEConnection LLC, a leading provider of online solutions for original equipment manufacturers (OEM) distribution networks, announced today that its Customer Care Department placed in the top 20 in the Small-Sized Centers Category of the Top 100 Call Center award for 2013 from BenchmarkPortal. The Top 100 competition compares the performance of contact centers throughout North America by evaluating their key metrics against industry peers. Entries are all cross-checked, validated and approved by certified call center experts, and the resulting submissions are scored on the basis of both quality and cost efficiency. In addition to this award, the OEConnection Customer Care Department, having consistently ranked among the top 10% of all call centers surveyed worldwide, has earned the Center of Excellence designation by BenchmarkPortal for five consecutive years.
"This award acknowledges the hard work of our talented Customer Care team as well as our company's ongoing commitment to exceptional customer service," said Paul Johnson, Senior Vice President, Sales/Service & Chief Administrative Officer at OEConnection. "Whether it's providing one-on-one product training, answering inbound phone calls within 20 seconds of receipt, offering multi-lingual and multi-solution support, or launching a new, state-of-the-art online help tool, OEConnection is dedicated to putting our customers at the center of our business as we strive to help make their businesses more successful."
The Top 100 process is based entirely on statistical comparison to the world's largest and most respected database of call center metrics, enabling the competition to objectively identify centers that are achieving superior results both in financial and qualitative terms.
The Top 100 contest grouped submissions into three categories according to size for this awards program. Each center was compared with its own industry and assigned numerical ratings.
"OEConnection's ranking of Top 20 shows that it has achieved outstanding results when compared with centers from a wide variety of industries, which is a great accomplish-ment for this center," said Bruce Belfiore of BenchmarkPortal.
###
About OEConnection LLC
OEConnection is the leading parts e-commerce technology provider for OEM distribution networks, serving over 36,000 dealership and repair customers. Customers use OEConnection products over 6 million times each month to market, manage and move original equipment parts, facilitating an estimated $19 billion in annual replacement parts trade. The company is headquartered in the greater Cleveland area at 4205 Highlander Parkway, Richfield, Ohio, 44286. Additional information is available at http://www.oeconnection.com or by emailing Joan Deegan at joan.deegan(at)oeconnection(dot)com
About BenchmarkPortal
BenchmarkPortal's activities began in 1995, and it is now a global leader in the contact center industry, providing benchmarking, certification, training, consulting and research. The BenchmarkPortal team of professionals has gained international recognition for its innovative approach to best practices for contact centers. Bench¬markPortal hosts the world's largest database of contact center metrics, which is constantly being refreshed with new data. BenchmarkPortal's mission is to provide contact center managers with the tools and informa¬tion that will help them optimize their efficiency and effectiveness in their customer communications. For more information, call 1-800-214-8929 or visit http://www.BenchmarkPortal.com