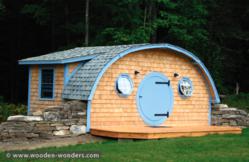 "It is important to weigh in all the options and do all the research, Information is the key to any business success." - Ciaran Connolly, Co-Founder of ProfileTree
London, UK (PRWEB) May 31, 2013
Melissa and Rocy Pillsbury spoke to ProfileTree about taking their traditional carpentry background and transforming it into something extraordinary with the creation of Hobbit Holes. in an interview released today.
Rocy said he had been doing traditional carpentry for over 15 years and was ready for a change. And since he was a big fan of fantasy it suited him to turn his mastery of word work into more creative and whimsical structures.
This creative couple went into working independently and is featuring products for clients with "appreciation for the attractive and whimsical nature of our product. And also an appreciation for the value we offer, which is an intersection of high quality and reasonable cost."
They build hobbit holes for a wide variety of uses: playhouses, sheds, cottages, saunas, chicken coops - and many customization options to create an even longer list of possible applications.
Their only advice to someone working independently is: "Don't expect overnight success. It takes time to build a business and you have to be mentally (and ideally financially) prepared for the long road ahead."
Taking the risk of working independently can be stressful but the key is research. "It is important to weigh in all the options and do all the research, Information is the key to any business success." says Ciaran Connolly, Co-Founder of ProfileTree.
Profile Tree's main goal is to help small business owners reach new customers every day with the most innovative online marketing tips and techniques.
About ProfileTree: ProfileTree is a free listing service where self employed and small business owner can create an online marketing profile. From Pencil or Portrait Artist to Self Employed Service Providers - anyone can create a skills profile on ProfileTree for free.