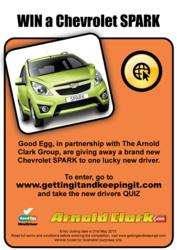 (PRWEB UK) 29 May 2013
The draw, which closes this Friday, 31st May 2013, requires new drivers to read the all-in-one, easy to follow resource then simply have to answer five quick quiz questions here. It provides advice on getting a license and keeping it, choosing the right instructor, passing your theory and practical tests, buying and insuring your car, traffic laws and staying safe—and, most importantly, the dangers and consequences of drink and drug driving.
The Good Egg Guide for New Drivers highlights the potential risks which new drivers face throughout the UK. For example, on average 7 young drivers or passengers are killed or seriously injured on our roads everyday. Research reveals that drivers are most likely to experience collisions within the first two years of passing their practical test. In addition, young male drivers aged between 17-25, are 17 times more likely to be involved in a collision between 2am -5am. The New Drivers Guide lays out advice for young drivers to ensure they keep themselves and their passengers safe at all times such as informing parents of their travel arrangements and negotiating a 'New Driver pact'.
Stephen Stradling, Emeritus Professor at Edinburgh Napier University, said: "This excellent guide will help new drivers protect their safety margin and stay safe through the crucial first six months after passing their test."
Sir Arnold Clark, Chairman and Chief Executive of the Arnold Clark Group, said:
"We particularly want to draw attention to the quiz. This answer to every question can be found on The Good Egg Guide for New Drivers website, so it's a great incentive for young drivers to read it through and get the facts. Simply get all the questions correct and you automatically go into the draw."
For parents of newly qualified drivers worried about the potential risks they face, The Good Egg Guide also has a resource for Parents of New Drivers. Please visit http://www.parentsofnewdrivers.com for more information.