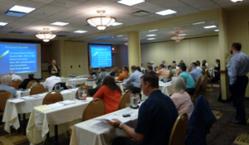 If an advisor is expanding into the business owner market, this 2 day seminar provides a wealth of knowledge and resources to get started. --Ed Morrow, Chairman and CEO of IARFC and BOCW (Day 2) presenter.
Middletown, OH (PRWEB) May 30, 2013
Jim Duggan, JD, MBA, founding principal of Duggan Bertsch, LLC, a Chicago based business, tax, estate and wealth planning firm, presented the first day of the seminar. As an attorney, he reviewed the legal aspects of Buy/Sell Planning and how effective business and wealth transition requires an integrated approach among advisors acting in concert for a client's best interest. "We focus on coordination with the full advisory team to assist a client in creating and implementing the optimal transitions and long term wealth planning structure," says Duggan. "Whether utilizing product structure, estate planning documents or family office strategies, the clients are best equipped to achieve their asset protection, tax minimization, succession planning and philanthropic goals."
Attendees of Day 2 Business Owner Consulting Workshop received not only implementation strategies but tools to take home and start using immediately. These "tools" were in the form of Word documents, Excel spreadsheets and PowerPoint presentations. "We do all the initial work in planning the approach," relates IARFC Chairman and CEO Ed Morrow. "All the advisor has to do is edit the information to fit their specific situation and they are good to go. No need to reinvent the wheel!"
Roccy DeFrancesco, WPI and organizer of the 2 day event feels that Buy/Sell Planning is one of the most overlooked markets in the industry today. "I thought it would be a good idea to offer this 2 day seminar merging both the technical/legal aspects of Buy/Sell Planning with Ed's marketing workshop. After seeing it in person, not only was I right, but I was blown away at how well the 2 day seminar fit like a glove to empower advisors with both education on the subject and marketing tools to go use their new found knowledge to pick up clients."
The IARFC holds numerous BOCWs around the country and continues to be a relevant source for practice-based tools needed when servicing business clients. Prior attendee Gary Scheer, Morristown, NJ says, "This is one of the best workshops on insurance and business planning I've attended in my 30 years in business. Ed Morrow is a master presenter."