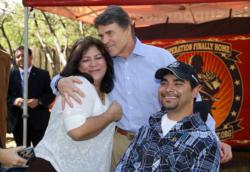 Austin, Texas (PRWEB) May 29, 2013
A hometown hero returned from the war in Iraq without a scratch. But Army Spc. Augustine "Augie" Pena's simple act of kindness on Thanksgiving weekend in 2010 went horribly wrong.
Augie had the responsibility to report to the Army Reserve post in St. Louis. It is a duty all active members must perform as part of service. In the early morning hours Augie noticed a car by the side of the road.
A young woman had a flat and Augie stopped to help. The plan was to lend a hand to 20-year old Mary Elbring.
Out-of-nowhere, a drunk behind the wheel of another car rammed into Ms. Elbring's auto. A chain reaction occurred and the ending was not kind to Augie. The war survivor was crushed, left in critical condition.
Augie lives every day as a paraplegic. Unmarried, the Army Spc. stays in a small, shoebox-sized apartment with mother and a much younger brother. No help from the government for a hero at home and abroad because Augie was not on-the-military clock at the time.
Timbertown Austin, Austin Deck Company, Trex and Gary Henly Homes have joined together with Operation FINALLY HOME. The mission is to provide custom made mortgage-free homes to wounded and disabled veterans and the widows of the fallen in an effort to get their lives back on track and become productive members of their communities.
Timbertown Austin would like to invite friends and customers to help make Augie's dream and other Texas vets of a new house come true. Visit Timbertown Austin at 15607 Grand Street; Pflugerville, Texas or call 512-528-8112. Join the mission to give Augie a custom made mortgage-free home. This hero deserves it.
Timbertown Austin
Timbertown Austin is a single outlet for outdoor living lumber and building materials. Timbertown Austin carries a wide selection of quality products at competitive prices. Exemplary, friendly customer service with excellent delivery programs and a fair return policy are the foundations of Timbertown Austin.