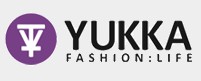 We hope that the tips we've outlined will help customers get to grips with the street fashion that both suits them best and brings out their individuality
(PRWEB UK) 29 May 2013
Streetwear has grown to become an international genre and lifestyle - from clothes and footwear to a limitless range of accessories, people have assimilated hip-hop culture and also integrated their own personal style to reflect their particular urban landscape.
Nevertheless, not everyone has the flair or know-how to throw together an outfit that lives up to this seemingly effortless type of style. As one of the UK's leading online retailers of streetwear, Yukka explains the key factors which give urban clothing the perfect 'edge':
Mix It Up
'Urban chic' is about creatively mixing and matching - clothes, footwear and accessories should be thrown together to complement each other perfectly as well as to portray a person's unique individuality. Yukka advises that the Golden Rule is to be bold and fresh yet stylish, although the subtle trick is for the wearer to appear as if they haven't tried too hard.
Make a Unique Impression
To attain 'streetwear cool', another tip is to develop a signature look, even something subtle like a particular cap style, necklace or ring. Leading clothing brands each have a particular 'edge', so there are many inspirations to choose from plus blend in a new way. When it comes to bling, Yukka suggests people choose quality over quantity – a single high-end ring is more impressive than five mediocre knock-offs.
If the Shoe Fits
For urban clothing to appear effortlessly sharp, it's important for the wearer to understand what suits them best, what makes them feel and look 'at home'. This means each individual has to think about both the image they want to portray and their particular body shape in order to choose streetwear labels that compliment them.
Essential Shades
Sunglasses are a crucial urban clothing accessory – from big and bold 70's or 80's inspired shades to the more streamlined varieties, there are a massive amount of options. To choose the right pair of sunglasses, Yukka advises people to consider not only their particular style preference, but equally importantly the shape of their face. For example, if a person has a small, narrow face then the popular large sunglasses could give them a 'bug eye' look, so they would need to opt for smaller sized shades. Secondly, when it comes to choosing colour, think about the complexion – people with bluish or pinkish complexions would not do well with sunglasses that are copper, orange, tan or off white as these tones would have them looking washed-out.
Founder of streetwear specialist Yukka, Robby Sur, concluded: "With so many exceptional urban clothing brands to choose from these days, it can be tricky for people to decide on what to go with. We hope that the tips we've outlined will help customers get to grips with the street fashion that both suits them best and brings out their individuality."