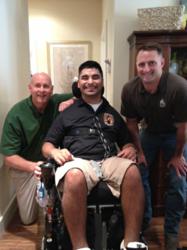 Austin, Texas (PRWEB) May 30, 2013
Army Spc. Augustine "Augie" Pena returned from the war in Iraq only to be felled by a drunk driver outside of St. Louis on Thanksgiving weekend in 2010. Because of a simple act of kindness, Augie is now a paraplegic.
Timbertown Austin has joined hands with other Texans to build a custom made mortgage-free home for Augie. Special thanks to Gary Henly Homes for getting the ball rolling. But the two businesses are not alone in helping Augie.
Henly Homes, Austin Deck Company and Trex have likewise pitched-in. How did it all come together?
Steve Anthony with Timbertown Austin answered the phone last year, "On the other end was home builder, Gary Henly," Steve recalls. "Having a father in the Navy serving in Vietnam the family saw the lives that were impacted. That's when Timbertown Austin felt a desire to help."
"The Office of the Governor is always humbled and amazed at the generous, caring nature of the people of Texas and their steady devotion to a long tradition of neighbor helping neighbor," Gov. Rick Perry said at last October's groundbreaking. "On this site will stand another fine example of the spirit of selfless compassion, manifested in a new home for Spc. Pena. Augie represents the American hero who always answers the call to defend freedom and the American way."
Steve adds, "All parties identified Augie's physical needs while at the same time enabling the soldier to live in a completely functioning, beautiful home. It's in giving back to the community where true accomplishments come from."
Steve is modest about Timbertown Austin's role in this new home for Augie, "Being blessed to work with such great partners like Gary Henly, Abe Oeltjen who built the deck with Austin Deck Co., thanks also to Scott Barton with Fortress Railing who installed the railing through Sundance Metals. Don't forget the wonderful suppliers, Boise and Trex who provided the composite decking."
Timbertown Austin and the rest of our partners urge you to get involved. Please, help Operation FINALLY HOME in its mission. Operation FINALLY HOME needs Texans to hold events around the state. Raise awareness and funds to build a home for our severely wounded service members, widows of the fallen and their families. Volunteer for one of their events in your area.
Contact Operation FINALLY HOME here: 1659 State Highway 46 West, Ste 115-606; New Braunfels, Texas 78132. Or call Dan Vargas at 830-632-6702 or by e-mail at baba.vargas(at)gmail(dot)com. Dan is the Director of Operations with FINALLY HOME.
"Memorial Day is a time for family gatherings, parties, burgers and hotdogs and lots of ice cream. Let's make this year a time to talk this up when we honor the fallen," Steve recommends. "Get involved. There are many vets coming back every day, ravaged by the battles overseas, or as in Augie's case, just trying to be a good man right outside of St. Louis. A day that changed his life forever."
Timbertown Austin
Timbertown Austin is a single outlet for outdoor living lumber and building materials. Timbertown Austin carries a wide selection of quality products at competitive prices. Exemplary, friendly customer service with excellent delivery programs and a fair return policy are the foundations of Timbertown Austin.