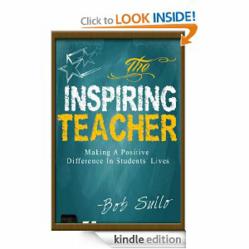 We are excited to get such a great resource into the hands of more educators and parents.
Livingston, NJ (PRWEB) May 29, 2013
Inspiring educator and senior faculty member of William Glasser International, Bob Sullo is the author of The Inspiring Teacher. Written for both experienced teachers and teachers in training, The Inspiring Teacher invites educators to approach their profession as much more than just a job. It's an opportunity to make a positive difference in their students' lives. The Inspiring Teacher is an equally valuable resource for parents who want their children to internalize values and behave responsibly, whether or not anyone is monitoring their actions.
Mr. Sullo and his publishing partner firm, Funderstanding, utilized Amazon's KDP Select Program to get The Inspiring Teacher into as many hands as possible.
The book was offered at no cost from May 21 to May 23. This promotional event resulted in 1,303 downloads of The Inspiring Teacher from across the United Stats as well as five international locations. For two and a half days, the book ranked #1 in two categories: "Contemporary Methods" and "Professional Development." During the three promotional days, the book's bestselling rank for free books improved by more than 4,000 positions.
Summing up the promotional event for The Inspiring Teacher, partner of Funderstanding Paul Kondo said, "This promotional event was now our fifth one. Each time, we implemented different strategies to let more people know about the event. It seems like we are on the right track in terms of increasing our books' visibility through Amazon's free promotion program, as we have been experiencing growth in our numbers and efficiency in the preparatory stages. We are excited to get such a great resource into the hands of more educators and parents."
The Inspiring Teacher is still available at no cost for Amazon Prime Members and attractively priced at $4.99 for basic members.
Funderstanding is holding another promotional event for one of their authors from June 12-13. It will be for Dr. Daniel Barth's Maurice on the Moon, the first kindle book of an ongoing sci-fi adventure series book geared for young students. It is a Common Core science and reading resource and its newly updated paperback version includes an extensive glossary for educational purposes.
Follow Funderstanding on Twitter to stay up to date on their promotional events and other news.
About Funderstanding:
Funderstanding is a resource for teachers, parents, and students to stay up to date on education-related issues. The company focuses on innovative and progressive approaches to inspire learning in classrooms as well as homes. Funderstanding is also an ebook publishing partner company, focused on education-related content, which provides complete epublishing services as well as an expertise in ebook marketing and author branding.
Find more detailed information at:
http://www.funderstanding.com