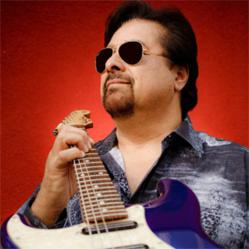 SAN DEIGO, Ca (PRWEB) May 29, 2013
Kona Kai Resort & Spa on Shelter Island and Palm Spring's very own Riviera are thrilled to welcome award-winning Blues guitarist, Coco Montoya, to perform intimate concerts at both resorts this summer. Performing hits like Hide Away and All Your Love, Coco Montoya's "icy hot" guitar style will attract guests and locals alike, to vibe under the ambient California sky.
Touring all over the country from Phoenix to Seattle, Coco Montoya is making special appearances at Kona Kai Resort & Spa June 21, 2013 and at Riviera Palm Springs June 22, 2013. Though he grew up as a drummer and was raised on rock & roll, Coco Montoya became an outstanding blues guitarist after playing with Albert Collins and John Mayall for nearly a decade. The California native first debuted as a solo artist in 1995 with the Blind Pig Record's album, Gotta Mind to Travel, and garnered an award for Best New Blues Artist at the W.C. Handy Awards. Since his debut Montoya has released six hit albums; his latest is I Want It All Back, produced by Keb' Mo' and Jeff Paris in 2010.
Tickets for Coco Montoya at Kona Kai Resort & Spa are on sale for $15 and $20 at Riviera Palm Springs.
For more information and to make reservations:
Kona Kai Resort & Spa
1551 Shelter Island, San Diego
(619) 221-8000 or visit http://www.resortkonakai.com
Riviera Palm Springs
1600 N Indian Canyon Dr., Palm Springs,
(866) 588- 8311 or visit http://www.psriviera.com
Kona Kai Resort & Spa is a timeless San Diego Bay treasure, situated at the very tip of Shelter Island and offering captivating marina and bay views. Creating a surprising atmosphere, Kona Kai delights guests with an intimate SoCal experience in a fresh environment, inspiring the American spirit and revitalizing the soul. Classic in style, with alabaster walls, red tile roofs and archways, the warm and alluring atmosphere has, for decades, played hosted to dignitaries and film stars alike.
Situated at the base of the majestic San Jacinto Mountains, Riviera Palm Springs is an iconic playground of the past to the likes of Frank Sinatra and the Rat Pack, characterized today as Old Hollywood glamour, with a fresh, playful twist. The sprawling resort recently completed a multi-million modernization and continues to inspire some of the desert's best-kept secrets. Creating a "re-mix" of 60s influences, from oversized crystal chandeliers and vibrant shag rugs, to Andy Warhol pop art and an eclectic blend of retro furnishings, Riviera Palm Springs also boasts hundreds of towering palms, sparkling pools, private cabanas and intimate poolside fire pits.