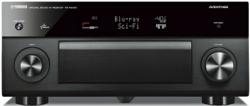 "Ultimately, we have one-upped ourselves with our new AVENTAGE receivers, achieving the purest, best-sounding audio and best video reproduction possible," said Bob Goedken, general manager, AV Division, Yamaha Corporation of America.
BUENA PARK, CA (PRWEB) May 28, 2013
Yamaha today introduced its most stunning models to date of its class leading AVENTAGE network AV receivers, engineered by ear for the discerning home entertainment enthusiast.
The 9.2 channel RX-A3030 and RX-A2030, as well as the 7.2 channel RX-A1030 embody the same obsessive attention to detail and granular approach to design that has earned widespread accolades from AV professionals since the company first introduced the series in 2010.
With these new models, the market leader in AV receivers posed a far greater challenge to its talented R&D team, who sought out and picked superior components and technologies by ear to achieve the purest, best-sounding audio and the best video reproduction possible.
The performance cornerstones of the 2013 AVENTAGE receivers are best-in-class ESS Technology SABRE32 ES9016 and SABRE ES9006 digital-to-analog converters. Yamaha engineers listened intently to each option before choosing the components that delivered the most spectacular audio and an unsurpassed sound stage.
These audio advances are perfectly complemented by Yamaha's original suite of proprietary video processing technologies to ensure peak video performance.
"Album after album, film after film, AV professionals say how much they appreciate the clean, detailed and powerful sound, and the highly convincing sense of 'being there' that embody our AVENTAGE receivers," said Bob Goedken, general manager, AV Division, Yamaha Corporation of America. "We can give all the credit to our engineers, who obsessed over every last detail, making subtle refinements and tweaks that mean the difference between good and great. Ultimately, we have one-upped ourselves, achieving the purest, best-sounding audio and best video reproduction possible."
The AV receiver is the centerpiece of a home theater, and Yamaha knows that the user interface is critical. These AVENTAGE receivers more than meet the occasion, offering flexible whole house entertainment, enabling the viewing of two HD audio/video sources simultaneously in two rooms via Advanced HDMI® Zone Switching. Wide connectivity to music from virtually any source within the network environment is provided by AirPlay®, Pandora® and Rhapsody® music streaming services, vTuner Internet radio, Mobile High-Definition Link (MHL®) and DLNA® certified components. Yamaha's top-rated AV Controller App for iPhone®, iPad® and iPod touch®, Android™ and Kindle Fire™ devices provides comprehensive system control (power, volume, source, DSP Mode, SCENE selection, etc.) from anywhere inside or outside of the home.
The full story behind the meticulous design and evolution of these new AVENTAGE receivers can be found at: http://4wrd.it/2AVENTAGEAVRECEIVERS.
Pricing and Availability
Yamaha's new AVENTAGE models will be available exclusively at authorized Yamaha AV dealers beginning in June, with the following MSRPs: RX-A1030 ($1,199.95), RX-A2030 ($1,699.95) and RX-A3030 ($2,199.95). For more information, write Yamaha Corporation of America, AV Division, P.O. Box 6600, Buena Park, CA 90620; telephone
(714) 522-9105.
###
About Yamaha
Yamaha Corporation of America (YCA) is one of the largest subsidiaries of Yamaha Corporation, Japan and offers a full line of award-winning musical instruments, sound reinforcement and home entertainment products to the U.S. market. Products include: Yamaha acoustic, digital and hybrid pianos, portable keyboards, guitars, acoustic and electronic drums, band and orchestral instruments, marching percussion products, synthesizers, professional digital and analog audio equipment, Steinberg recording products and Nexo commercial audio products, as well as AV receivers, amplifiers, Blu-ray/CD players, iPod docking systems, home-theater-in-a-box systems and its exclusive line of Digital Sound Projectors. YCA markets innovative, finely crafted technology and entertainment products and musical instruments targeted to the hobbyist, education, worship, professional music, installation and consumer markets.