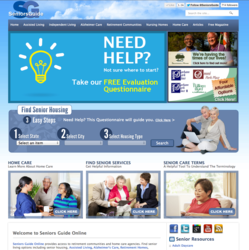 Visitors are guided to the best retirement living options, based on their answers
Richmond, VA (PRWEB) May 30, 2013
While researching different retirement living options, there can often be more questions than answers – SeniorsGuideOnline.com now offers a user-friendly, quick evaluation tool.
What is Assisted Living? How is Companion Care different from Home Health Care? What options are available if a loved one, or myself is diagnosed with Alzheimer's Disease?
"Visitors are guided to the best retirement living options, based on their answers," says Katharine Ross, Vice President of Sales and Marketing for Seniors Guide Magazine and http://www.SeniorsGuideOnline.com.
Dressing, Hygiene, Mobility issues, and even Nutrition are just some of the areas covered in the "Assessing Care Solutions" evaluation questionnaire.
Dependent on how one answers a question regarding behavior: "Performs well in a social setting. Emotions are under control" or "Poses potential for physical injury to self or others…" – they can be taken to different areas of the website that will provide solutions.
Performing well in a social setting may indicate that an active adult neighborhood, or Independent Living community would be the best places to look for housing. Other resources for seniors like Realtors or Financial Insurance Services could be suggested as well. It is never too early to get financial and legal affairs in order.
If an older adult or senior needs more attention and requires periodic assistance, Assisted Living could be the right fit. Along with Assisted Living, other options like Respite, Adult DayCare or Home Health Care and Companion Services could provide the best solutions.
"Whether someone is researching moving into a retirement community or having aging services provided at home, our questionnaire provides multiple options for a scenario," says Ross.
There are also options given for dementia, and Alzheimer's Disease, as well. Retirement living that offers Assisted Living and Memory Care can provide the best solution for living with different cognitive disabilities or impairments.
Seniors Guide, a Richmond, VA-based company, publishes Seniors Guide magazines throughout Cincinnati, Ohio; Dayton, Ohio; Indianapolis, Indiana; Raleigh-Durham, North Carolina; Richmond, Virginia; and Roanoke-Lynchburg, Virginia and features a correlating website of SeniorsGuideOnline.com. Seniors Guide's mission is to help seniors and their families find the information they need on options available in senior housing, senior care, assisted living, independent senior living, retirement communities and other retirement living needs. Seniors Guide also has resources at http://www.HomeCareChoice.com for Cincinnati, Ohio; Dayton, Ohio; Raleigh-Durham, North Carolina; and Richmond, VA. Ross Publishing, Seniors Guide's parent company, began in 1991 and has been publishing helpful, free publications and websites ever since.