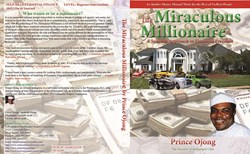 ...a theory he calls "$ucce$$tology."
(PRWEB) May 29, 2013
TITLE INFORMATION
THE MIRACULOUS MILLIONAIRE
A Sensible Approach Financial Freedom
Ojong, Prince
OverReacher Empire Corporation (576 pp.)
$22.99 paperback, $4.99 e-book
ISBN: 978-0988383203; April 23, 2013
BOOK REVIEW
A guide to finance and entrepreneurship, drawn from the author's personal experience.
This manual for wealth-building draws heavily on Ojong's background as an immigrant from Cameroon, his Christian faith, his self-taught knowledge of business and finance, and his experience running a number of small businesses. The book draws heavily on earlier work in the genre, particularly Napoleon Hill's Think and Grow Rich. The author blends the basics, including a comprehensive section on budgeting, with prosperity theology and the concept of neurolinguistic programming into a theory he calls "$ucce$$tology." Early in the book, he informs the reader that "if you are not rich in America, the problem is either your ignorance or lack of personal drive," and he devotes the book to remedying both problems. The author is open about his own financial failures, including an unsuccessful magazine business and some poorly timed real estate ventures, and derives most of his lessons from his own experience, although boldface names like Warren Buffett, Donald Trump and Andrew Carnegie also appear throughout the book, along with a "list of the most popular robber barons," whom he encourages the reader to take as role models. The author's name appears even more frequently, along with his sales pitches. "You have to buy my coaching package to succeed," he says at one point, and his phone and fax numbers appear more than 30 times throughout the book, accompanied by invitations to call now. The book's entire 11th chapter promotes his multilevel marketing company, the Millionaire Club. Readers may be put off by the author's unabashedly self-promoting approach to his financial message: "I am the new personal finance messiah."
While the author's advice for frugal living and responsible saving is worthwhile, obvious errors, like incorrectly naming the chairman of the Federal Reserve—Bernard, rather than Ben, Bernanke—should encourage the reader to do further research before following his more esoteric suggestions for getting rich through tax avoidance and life insurance.
Advice for achieving financial success by following the author's path and by purchasing the products and services he enthusiastically hawks in these pages.
Kirkus Indie, Kirkus Media LLC, 6411 Burleson Rd., Austin, TX 78744