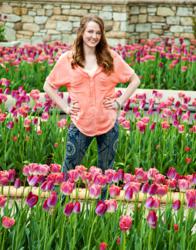 Five great locations for this summer's family or high school senior photos
Carmel, IN (PRWEB) May 29, 2013
Summer is here and schools are finishing the school year, so families and all of the new high school seniors are thinking about their special summer portrait.
There are several ways to make a family or senior portrait unique; the clothing selected, adding personal props, bringing a pet, but one thing that can make a portrait stand out is the location.
Wyant Photography with two locations, Carmel Indiana and Zionsville Indiana, specializes in unique portraits and through their experience they have suggested five great locations that will shout "unique and fun" for this years great portrait.
A great, "this is us" location is the family home or maybe a lake or vacation house. A family portrait or series of senior photos in ones own surroundings is the most personal photo that can be created.
If one is searching for beautiful gardens for this summers special portrait, then consider the White River Gardens. With flowers that change throughout the summer, beautiful water areas, trellises and other creative structures this is a perfect garden sitting for your family and/or high school senior photographs.
For families and seniors that are more contemporary the perfect location is the Indianapolis Canal. This location includes the city scape, columns, contemporary bridges and the artistic waterfalls, making this the perfect location for those who want a more modern look to their portrait.
What about a beach portrait? That would definitely stand out as unique for families and senior in the midwest. One might ask, how do you get a beach photo in the middle of Indiana? The Indiana Dunes is an amazing location for this type of portrait and only about 2.5 hours from the center of Indiana. This location offers the sandy beach, wavy tall grass and even a lighthouse that can be part of the background.
The fifth location suggested by Jim from Wyant Photography, is his own Country Harmony location. Nestled between Zionsville and Carmel this 10 acre portrait park has been designed specifically for natural portraits of families, children, engagement couples, bridal couples and high school seniors. Complete with a creek, pond, waterfall, pre civil war barn, several flower gardens and the great '54 Chevy pick up truck and dozens of creative props and backdrops, this location shouts "unique". Jim has invested over 25 years in to creating this little corner of the county into a haven unique for artistic portraiture that stands out from the rest.
Jim and Lois Wyant offer all five of these locations to help create the special, unique portrait for this summer. They suggest that the clothing can help make a timeless appearance to the photo and is important to discuss the style and the colors that one might be considering.
If you are interested in unique portraits and are searching for the best quality in photography that will become a family heirloom, Wyant Photography would be the studio to contact. Their images can be viewed on line at wyantphoto.com or call at (317) 663-4798.