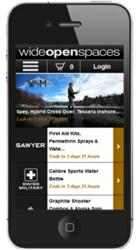 As hunters and anglers, our customers spend much of their time away from a desktop and we saw our mobile traffic increasing fast. We wanted a mobile experience to accommodate this rapid acceleration of use
Austin,TX (PRWEB) May 29, 2013
Wide Open Spaces, the first social commerce company to target the $90 billion sportsmen community by bringing exclusive curated offers from iconic and emerging brands in the hunting and fishing industry, today announced the launch of its mobile-optimized site. The new Wide Open Spaces mobile site is part of the company's omnichannel strategy to best serve its customers.
"Wide Open Spaces customers are avid outdoor sports enthusiasts who are often literally 'out in the field,' which makes mobile an ideal fit," said Denis O'Dwyer, co-founder and CEO of Wide Open Spaces. "When a time-limited deal on hunting and fishing gear is on, our new mobile-optimized site makes it easier for customers to be able to take advantage of the latest deals and discounts on hunting and fishing equipment, apparel and accessories, at any time and location."
Because the new mobile site is integrated into the same Magento ecommerce platform that currently powers their desktop site, the new mobile site is fast and stable, while also allowing mobile to be treated as a different and unique channel.
"As hunters and anglers, our customers spend much of their time away from a desktop and we saw our mobile traffic increasing fast and we wanted a mobile experience to accommodate this rapid acceleration of use", said Chris Mitchell of Wide Open Spaces. "Our deals are time-sensitive and change often, so a solution that was integrated with our ecommerce platform was key", he added.
With curated daily deals posting at a rate of over a dozen each day, Austin-based Wide Open Spaces launched an integrated solution from Unbound Commerce built from the "whole cloth" to leverage and extend its current e-commerce infrastructure, while maintaining the ability to treat mobile as a separate channel.
"Wide Open Spaces serves up deals on hunting and fishing gear in a way perfectly suited for mobile and they understood the potential", said Wilson Kerr, Unbound's VP of Business Development & Sales. "This was a complex build and we are very pleased to have been involved", he added.
About Wide Open Spaces
Wide Open Spaces launched in 2012 with a seed funding of $1.75 million from Mercury Fund, RPM Ventures, and Dundee Venture Capital. The company was founded by a team of passionate sportsmen who previously held key roles at Yelp, Yahoo!, Spredfast, HotJobs – and more, with a mission to improve the way people hunt, fish, and experience the outdoors. With free membership, the company serves as a platform to shop favorite brands while discovering new ones, find exclusive offers with exciting outfitters, and connect with a growing community of partners and sportsmen enthusiasts. The company hosts well-known brands that include: Reaction Strike, Remington, Pure Fishing, TenPoint CrossBows, and SOG. Headquartered in Austin, Texas, Wide Open Spaces is helping sportsmen and outdoor enthusiasts to Get Out More, For Less. For more information, visit http://www.wideopenspaces.com
About Unbound Commerce
Unbound Commerce is the industry's #1 provider of mobile commerce solutions, for Retailers seeking to reach their customers anytime and anywhere. Unbound Commerce's unique approach means the integration work done for a mobile commerce site can be leveraged to deliver a tablet commerce site, a social commerce store, and a commerce-enabled downloadable app. Unbound also delivers free marketing tools to help retailers and brands bridge online and offline consumer touch points, at point of sale. Unbound has built and deployed mobile sites for Rockport, Finish Line, Miller Coors, and almost 400 other retailers. For additional information, please visit http://www.UnboundCommerce.com.