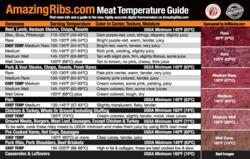 Cooking without a food thermometer is like driving without a speedometer
(PRWEB) May 30, 2013
Meat is expensive. We should not overcook it. Our friends and family are priceless. We should not kill them.
The award winning AmazingRibs.com Meat Temperature Guide by barbecue whisperer "Meathead" Goldwyn is a comprehensive guide to meat temperatures. It includes the latest USDA recommendations as well as chef recommendations (and they often differ) as well as color photos of the different stages of doneness for beef. Designed for quick reference, the temperatures are the same for both indoor and outdoor cooks. A refrigerator magnet version won the National Barbecue Association Award as the 2012 Best BBQ Tool .
Most cookbooks contain outdated meat temperature info because the USDA has changed its recommendations several times. Knowing the best temps is essential to cooking safe and cooking great food. The Center for Disease Control estimates that each year roughly 1 in 6 Americans gets sick from foodborne illnesses, often mistakenly called "stomach flu," and 3,000 die. And nobody knows how many millions of dollars were wasted on overcooked food.
"Cooking without a food thermometer is like driving without a speedometer. A good temperature guide and a digital thermometer are essential for every cook, especially backyard cooks," says Meathead, whose website is ranked the world's most popular barbecue and grilling site by comScore and others.
You can print out the guide on AmazingRibs.com and read Meathead's guide to thermometers. Although Meathead sells nothing on his strictly educational website, GrillGrates, a third party publisher, sells the guide as a 8.5" x 5.5" refrigerator magnet from a link on the page above.
---------
About AmazingRibs.com: AmazingRibs.com is the world's most popular barbecue and grilling website, by far, and it ranks in the top 50 most popular food websites in the US according to comScore. The site is a backyard cook's dream with hundreds of pages devoted to tested recipes, tips and techniques, mythbusting, as well as equipment reviews, all edited by barbecue whisperer and hedonism evangelist, Meathead Goldwyn.
Click here to get Meathead's BBQ & Grilling Tip Of The Day on Twitter