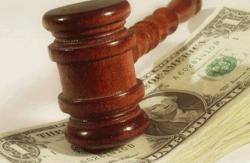 ...they can get their hands on their financial settlement quickly
Phoenix, AZ (PRWEB) May 29, 2013
AnyLawsuits.com, online provider of lawsuit loans, now offers plaintiffs the ability to get their settlement funds early so they can more easily make necessary major purchases - especially following a car accident.
Car accidents can cause major harm - not only to drivers and passengers, but to family bank account as well. After ensuring everyone involved is healthy and safe, the amount of money needed to recover from an auto accident is staggering. From tow truck to rental cars, and from car mechanics to needing to buy a new car, those involved in car accidents often see money draining from their bank accounts instantly.
Luckily, those involved in car accident lawsuits following their accident can rest easy knowing they can get their hands on their financial settlement quickly. Car accident lawsuit loans allow plaintiffs easy access to the funds they'll win during their settlement so they can buy a new or used family vehicle, so they can get to and from work, run errands and bring their kids to dance lessons.
AnyLawsuits.com provides reliable lawsuit settlement loans, allowing borrowers the ability to shop for the perfect car while awaiting lawsuit decisions. After taking care of their families following the car accident, plaintiffs are able to support themselves and their families with non-recourse cash advances, without having to settle for a lower payment amount because the payment timeline is shorter. In addition, AnyLawsuits.com does not collect payments if the plaintiff does not win their case. This means that each plaintiff can rest assured that their representation is working their hardest to make sure everyone receives the best financial compensation they deserve.
Along with funding car accident lawsuits, AnyLawsuits.com will fund patent infringement, medical malpractice and wrongful termination suits as well.
With the help of AnyLawsuits.com, car accident victims can buy a new car, take care of their families, and transition back to their normal routines easily while awaiting lawsuit decisions.
About AnyLawsuits.com
AnyLawsuits.com is a leading provider of non-recourse cash advances for plaintiffs in the United States. Lawsuit cash and settlement loans and provided while the case is in progress, so plaintiffs don't feel pressure to accept low settlement offers. Contact AnyLawsuits for a fair value of any case.