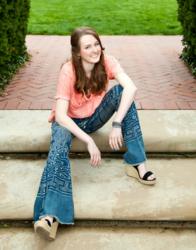 Class of 2014 first annual Professional Photographers of Indiana Model Contest
Indianapolis, Indiana (PRWEB) May 29, 2013
Adding fun to the 2014 High School Senior photos, this year, the Professional Photographers of Indiana (PPI) will be hosting the first annual Senior Modeling Contest.
Perfect for all of the high school seniors who have ever thought of being a model for a day or for those high school seniors who just like to have fun.
For the 2014 high school senior to participate, it is very simple; select a participating member of PPI to photograph the senior photos and have fun. A list of participating photographers can be found on the PPI Senior Model website.
It is suggested to add a unique look to the senior photos. Consider the type of clothing; be different and timeless, add scarves or hats, add jewelry, don't forget different seasons by taking winter, fall and spring outfits to the senior session. Include pets. Select different locations; parks, beach, gardens, etc. Putting some thought to the senior photo location and clothing can make the photos stand out and give the senior a better chance to be the winning 2014 senior model.
Each participating studio will have their own local winner that will receive a 16x20 portrait of the favorite pose and will advance into the finals. The final winner of the PPI 2014 Senior Modeling Contest will be selected by the Professional Photographers of America guest photographer that will be photographing the winning model at the PPI 2014 Convention in January.
The winner of the Indiana State Modeling Contest will receive a gas card for traveling expenses within Indiana to the PPI State Convention in January that will take place in Indianapolis, a night stay for the model and a parent/guardian at the convention hotel, a scholarship, a model portfolio album, two modeling sessions at the state convention photographed by the winning photographer and the national speaker at the convention and be the feature photo on the PPI Convention Magazine cover.
The photo session itself is unlimited, the model and the PPI photographer are very open to be as creative as they choose for their entry collage. The entry will be made up of four different poses and must be submitted by midnight on November 3, 2013.
The photographer must be either a VIP or Active member of the PPI. Each studio pays $100 to enroll the studio, unlimited number of entries and the studio offers a free entry into the PPI Senior Modeling Contest for each senior that would like to participate as part of their senior session.
PPI began in 1937 as an organization to unite photographers and offer classes to help photographers advance in the areas of posing, lighting, technology and business. PPI developed a yearly four day school called Winona that offers intensive training for photographers by Master, Craftsman photographers associated with the Professional Photographers of America. This years' school will be June 16-19 at Brown County State Park. There are a few openings for the classes and registration is available through the website.