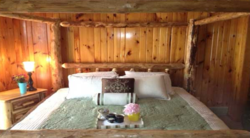 "These last minute opportunities to visit Timber Wolf Lodge at a very special reduced rate are exceptional," said Roger Bruhn, Timber Wolf Lodge owner.
Ely, MN (PRWEB) May 29, 2013
Timber Wolf Lodge has just announced a very special vacation package rate for June 8-15, 2013. Two cabins are available for this time period and are being offered at a greatly discounted rate.
The newly renovated Ely Resort cabins available are the two bedroom Cabin 2, and the five bedroom Cabin 6. Both cabins feature sleep number beds in the master bedrooms (cabin 6 has three master bedrooms!) fully equipped kitchens, fireplaces and amazing views over Bear Island Lake. The 4th and 5th bedrooms in the largest cabin, Cabin 6, contain bunks with a double bed on the bottom and a single above making it the perfect escape for a group or large family. Cabin 2 also features bunks in the 2nd bedroom, just right for a smaller family.
Timber Wolf Lodge located near Ely, Minnesota sits at the edge of the vast wilderness that makes up the Boundary Waters Canoe Area of northern Minnesota. A very scenic drive along the North Shore of Lake Superior enchants the eye before heading west towards Ely. More than 1200 pristine lakes and streams surround forests of incredible natural beauty. Guests enjoy unlimited opportunities for fishing, hunting, birding, canoeing, boating, watersports, kayaking, and hiking. Everything visitors need to pursue their chosen activities is available at the resort. Don't forget the camera!
Five bedroom Cabin 6 is being offered at a $505 discount for June 8-15, 2013. Normally priced at $1900, book now and the price will be $1395, a fantastic value for this beautiful lakeside cabin which will comfortably accommodate up to 12 guests. Save $246 on a week long stay in the two bedroom Cabin 2, regularly priced at $995, now just $749 for the week of June 8-15, 2013. Drop everything (into a suitcase) and contact Timber Wolf Lodge today – these last minute deals won't last!
The TimberWolfLodge website provides full descriptions of each cabin and information on all of the amenities you will find at the resort.
Enjoy a sunset cruise along the lakeshore or a campfire on the beach while listening to the Loons call across the water. Join in a natural adventure with environmental educator Angela Ziobro, coordinator of guest services and family adventures. Fish for the nights dinner right from a boat on Bear Island Lake and cook up the fresh filets in the fully equipped kitchen. Spot the abundant wildlife species and observe the behavior of birds and animals native to this area. Experience an authentic Minnesota vacation by asking the staff at Timber Wolf Lodge to help arrange the perfect vacation to suit the individual interests of the entire family.
The experience of being immersed into nature at the edge of one of our countries last great wilderness areas is unsurpassed in promoting relaxation and a true sense of peace. The historical past seems alive, just as experienced by the Voyageurs who originally traversed these forests a century ago. Exploring the natural environment while enjoying the comforts of home is an unforgettable experience that keeps guests returning year after year.
"These last minute opportunities to visit Timber Wolf Lodge at a very special reduced rate are exceptional. Fishing is excellent in June; the resort offers all types of watercraft, bait and equipment. In addition to Cabin 2 and Cabin 6, we have a few seasonal RV sites available. Give us a call today and get packing – we'll see you in a couple of weeks!"
To take advantage of this special offering or to inquire about other dates and availability, visit the http://www.timberwolflodge.com website or e-mail guest(at)timberwolflodge(dot)com. An authentic Minnesota vacation awaits in the pristine wilderness of northern Minnesota where the staff of Timber Wolf Lodge will help you achieve the most memorable vacation of your life!