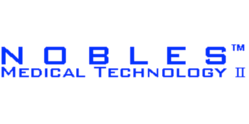 Fountain Valley, California (PRWEB) May 28, 2013
Dr Michael Mullen, a Consultant Cardiologist at University College Hospital London, UK and a member of the NMT2 Clinical Advisory Board performed the procedures using the latest generation of the NobleStitch.
The patients all received the procedure to suture their PFO closed without the use of a metallic implant or the need for long term anticoagulation. "The clinical benefit of PFO closure without leaving any device behind are significant, I am excited to watch the long term results of patients who have this technology versus a metal implant left in the hearts." Said Dr. Mullen. Also present at the cases for training was Prof. Dr. Anthony Nobles, CEO of NMT2 who commented "The cases were very smooth and Dr. Mullen is such an expert that very little additional training was required, we look forward to carrying on this same success with all of our new customers".
About Patent Foramen Ovale (PFO)
A PFO is a tunnel that exists between the left and right atrium of the heart. The tunnel, which is part of the normal fetal anatomy, should close shortly after birth. In 27% of the population the tunnel never closes. This tunnel can then allow clots and other chemicals to pass from the right to the left side of the heart freely bypassing the filter of the lungs. These clots and chemicals can cause strokes and other conditions such as severe migraines.
About the NobleStitch EL System
Nobles Medical Technologies II's NobleStitch EL is a catheter based system that allows a physician to place a suture in the PFO tunnel in the heart through a percutaneous puncture in the leg, in many cases under a local anesthetic in a catheter lab rather than an operating room. This eliminates the need for open-heart surgery or placement of a large metallic implant in the heart. The NobleStitch is not a "device" or mechanical implant it only places a simple polypropylene suture in the heart. By closing the hole or PFO, the therapy will reduce or eliminate the shunting from the right to the left side of the heart allowing the lungs to filter the clots and other chemicals from making it to the brain, potentially halting strokes and severe migraines and enabling patients to live a higher-quality life.
About Nobles Medical Technologies II
Nobles Medical Technologies II is a global structural heart company devoted to improving life through the development of its products and technologies. Nobles Medical Technologies II is focused on suture based solutions for the septum.
Visit Nobles Medical Technologies II http://www.noblesmedicaltechnology.com