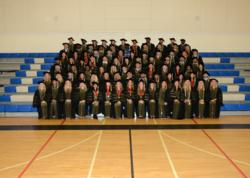 Portland, ME (PRWEB) May 28, 2013
Doctor of Pharmacy (PharmD) students of the University of New England's inaugural class of 90 graduated on May 18, 2013.
UNE President Danielle N. Ripich said, "I am so proud of our pioneering first class of students. UNE is committed to its role in providing outstanding health care practitioners for Maine."
"UNE's PharmD Class of 2013 has already provided 80,000 hours of supervised care through their introductory pharmacy practice experiences to patients in Maine and beyond," said UNE College of Pharmacy Dean Gayle Brazeau.
UNE College of Pharmacy Chair of Pharmacy Practice Kenneth McCall, who also serves as president of the Maine Pharmacy Association, noted other achievements: "Our students have worked with faculty members and the state legislature to advance key initiatives promoting public health and wellness, including the role of pharmacists as immunizers, providing medication therapy management and in working toward collaborative drug therapy management in Maine."
Among the Class of 2013 UNE College of Pharmacy graduates are:

Rachel Mayer grew up in Raymond, Maine, graduating from Gray-New Gloucester High School. She received her undergraduate degree in pre-pharmacy at UNE's Biddeford campus, and also chose to stay close to home to pursue her doctoral pharmacy degree at UNE. Her decision to stay close to home brought her far-reaching opportunities. Last fall, she and others in the Class of 2013 traveled to Thailand where they learned about their profession from a different cultural perspective. After graduation, Mayer will join a residency program at the Veterans Administration Healthcare System at Togus in Augusta, Maine.
Frank Jamison came to UNE's doctor of pharmacy program from Colorado, and has decided to make Maine his home. He will be working at Apothecary by Design in Portland, Maine.
Stephanie Chase is a native of Bangor, Maine. She worked at Miller Drug Store in her hometown when she was a senior in high school, and returned after she earned her bachelor's degree in physiology and neurobiology in 2008 from the University of Connecticut. She will be working at CVS in the North Boston (MA) district.
Nicholas LeBlanc came to UNE from Auburn, Maine and will be pursuing a residency program in Bangor at Penobscot Community Health Center.
Naima Abdirhamon was born in Moqudisho, Somalia. She and her family immigrated to Portland, Maine in 1996. Prior to joining the Class of 2013 doctor of pharmacy program, she was a pre-pharmacy student at UNE's Biddeford campus. Abdirhamon will be working for Hannaford Supermarkets.
The University of New England (UNE) is an innovative health sciences university grounded in the liberal arts, with two distinctive coastal Maine campuses and unique study abroad opportunities. UNE has internationally recognized scholars in the sciences, health, medicine and humanities; offers more than 40 undergraduate, graduate and professional degree programs; and is home to Maine's only medical school. It is one of a handful of private universities with a comprehensive health education mission including medicine, pharmacy, dental medicine, nursing and an array of allied health professions. UNE's interprofessional education initiatives prepare future healthcare professionals to practice comprehensive and collaborative team-based care. Both graduate and undergraduate students engage in research and scholarship alongside dedicated faculty who are committed to their academic and professional success.
###