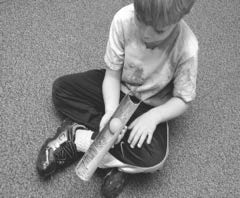 Shoreline, WA (PRWEB) May 31, 2013
On May 23, 2013, twenty volunteers in the Power of One Senior Volunteer Program in Shoreline, Washington, came together for tea and brownies and a hands-on lecture by Katie Johnson, former teacher in the Shoreline School District.
Introduced by Karen Kessinger, Power of One Coordinator, Katie talked about her new book, Red Flags for Primary Teachers, a handbook for children's vision and neurodevelopmental issues which may get in the way of learning to read.
"As classroom volunteers, working with children one-on-one, you are in the prime spot to do the most good," Katie told the group. "If a child needs to practice eye-tracking, you can do that very easily," she said, handing each volunteer a paper eyeball attached to a stiff paper strip about five inches long. "Try it on each other for a minute or two to see what it's like to practice tracking. Children who can't move their eyes comfortably across a page of print will not read fluently."
After listening to Katie's remarks about the many ways that children need to move, not only their eyes but also their bodies, in order to become successful readers, the Power of One volunteers played some other games described in the Red Flags book. One of these games is called "Purple Balance" (see photo). In this exercise the child uses a paper-towel roll and a ping-pong ball. The roll has had a one-inch strip cut out of it and has been colored in three equal sections red, purple, and green. Holding the roll loosely on his flat hand, the child has to balance the ping-pong ball in the purple section. This activity helps with visual focus, hand-eye coordination, and balance.
"I never knew about any of these ideas," one of the volunteers who works with fifth graders concluded. "I'm excited about trying some of them with the children I work with."
Katie Johnson has taught young children for many years in Maine and Washington and has written four books about teaching in the primary grades.