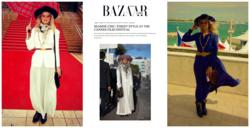 Cannes, France (PRWEB) May 29, 2013
During the 66th annual Cannes Film festival Balmoral Arts and Entertainment introduced their film project, American Royalty, to top production and distribution companies accompanied by fresh actress Elspeth Kincaid. Elspeth's unique sense of style caught the eye of countless art and film professionals including Harper's BAZAAR, and was approached by every Tom, Dick, and Harry with a camera seeking a shot. Elspeth's red carpet look was sourced from The 9th St Haberdashery, a vintage boutique in the east village of New York City.
The 9th St Haberdashery, established in 2012, by Stacey Luckow & Meridith Rauber made its debut this past September on its namesake street in Manhattan. The charming shop showcases boys wear for women, Irish crochet, vintage lingerie, and deco jewelry to name a few items. It is a veritable wonderland for vintage lovers worldwide. The pair have managed to cultivate a look that is vintage yet current with discernible sophistication. The 9th Street transcends its roots to give the fashion forward consumer a taste of historical essence while entering a new realm of unexpected garments to fit their everyday lives.
Stacey and Meridith come from a long line of merchants and costume designers. The constant exposure to fashion allowed them to develop a discerning eye for vintage details and unique items. Both Stacey & Meridith have an undying love for curating a unique, high quality selection of vintage garments and accessories that effortlessly translate to a modern wardrobe.
Balmoral Companies operate as multiple trading facilities in the British Virgin Islands (BVI) and United Arab Emirates (UAE) teaming with accredited investors Worldwide. This year, Balmoral has two divisions, Renewable Energy and the newly acquired Arts & Entertainment division, with partnerships around the globe, celebrating 25 years of growth and innovation.
American Royalty introduces new actress Elspeth Kincaid to play the role of Grace Kelly, the young American beauty who became a princess, and with whom the entire world fell in love. Grace Kelly was born to an Irish-American Family in Philadelphia. AMERICAN ROYALTY is the graphic story of how her family, led by Jack Kelly, was the foundation and catalyst for what Grace later achieved and became. Her father, Jack, was a first generation American who sought to prove that he could reach the highest levels of American Society despite the fact that he belonged to an Irish minority shunned by the privileged upper-class in Philadelphia.