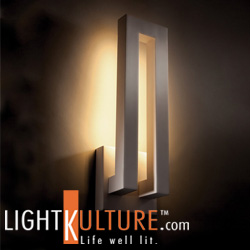 Their first collection of LED bath and exterior lighting is trend-right. Not only is the style, fit and finish right-on, but the LED light fixtures are as energy efficient as they are outstanding to look at.
New York, NY (PRWEB) May 29, 2013
LightKulture.com is pleased to offer Modern Forms, stylish LED lighting by WAC. "I was very impressed with the comprehensive approach WAC has taken with the launch of Modern Forms," noted Susan Inderbinen President of LightKulture.com.The Initial offering of 26 unique luxury LED lighting families and 160 styles are all engineered to the finest details. Modern Forms is designed to compliment a diverse range of architectural interior and exterior spaces, while delivering high quality, energy efficient, functional LED lighting for luxury homes, hotels and commercial spaces.
Modern Forms offers a full line of fresh bath and superior outdoor lighting exclusively using LED. Maximum versatility for interior and exterior application is achieved with a variety of styles, sizes, powder coated finishes and marine-grade stainless steel construction, that are both LED ADA compliant. Bath lighting inspirations come from both old and new. For example the Piasta series inspiration dates back to the 13th century Vetri family, to the Neo series adapted from the latest technology from the television and set design field. Both create phenomenal light, each from a shallow half inch deep luminary. Stylish flush mounts offer double the LED light output from other well known manufacturers on the market. Modern Forms offers high tech, single spot multi-chip LED sources that project narrow beams of light for ambient illumination and wall grazing for interior or outdoor applications.
Modern forms offers distinctive LED bathroom lighting styles to compliment today's interiors from traditional, transitional to contemporary environments. The clean edges, tightly engineered fit and finish throughout the line, combined with the glass artistry, scaled-up hardware and heavy gauge metal work coordinate with trends in up-market designer bath fixtures and hardware.
Functional performance for architectural accent lighting is maximized with LED lighting. Modern Forms LED outdoor lighting maximizes the light output to illuminate wall surfaces and pathways. Exterior lighting is designed for safe ambient lighting for architectural accenting to suit the exteriors of today's homes. The clean, minimalist architectural designs are in proper scale for interior and exterior, residential and commercial applications.
For more information go to:
Modern Forms http://www.lightkulture.com/m-88-modern-forms-by-wac.aspx
Modern Forms, Stylish, Efficient, LED Lighting by WAC, Now Available at LightKulture.com
"Modern Forms by WAC is one of this year's breakout lighting successes that we are happy to be a part of. Their first collection of LED bath and exterior lighting is trend-right. Not only is the style, fit and finish right-on, but the LED light fixtures are as energy efficient as they are outstanding to look at. Our design clients and homeowners are happy to find a one-stop shop with an offering that fits within their design plan and budget. Modern Forms has good looks and brains to match. They utilize proprietary technology, engineered to deliver consistent quality lumen output and high color rendering (CRI). The small size and miniaturized state of the art components enable a multitude of new design possibilities. Every Modern Forms light fitting offers dimmable LED. For all the design, technology and efficiency, the product line is very well priced. We see this as a win win for our design minded clients who are also practical and energy conscientious," noted Susan.
About LightKulture.com
At LightKulture.com our mission is to offer the finest energy efficient contemporary lighting and light fixtures from around the world. We have assembled an exciting collection of the industry's most innovative decorative and architectural lighting. We are proud to offer lighting solutions for both your home and work-life environments. Simplicity in design is complicated; function makes it last. Be inspired by our range of essential designs from well respected American and European manufacturers. In today's world, energy efficient lighting is as important as eco-friendly or green lighting fixtures, such as LED or CFL lighting. We offer the very best energy efficient lighting and light fixtures, both high value LED lighting fixtures and CFL lighting fixtures in modern and contemporary styles that provide quality, innovation and authenticity.
LightKulture.com
http://lightkulture.com
Email: sales(at)lightkulture(dot)com
Tel. 941-330-0422