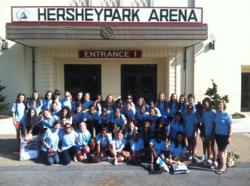 Their unison blend was exquisite, and their harmony was balanced and full. It was truly an amazing day for me—one that I will never forget!"- Director Ginny Flynn
Owings Mills, MD (PRWEB) May 30, 2013
On May 17, the Garrison Forest Middle School Chorus achieved top honors at the Music in the Parks competition at Hershey Park. For the third consecutive year, they took home the "First Place Women's Choir with a Superior Rating" trophy.
The 45-student musicians and director Ginny Flynn also won the "Top Overall Middle School/Junior High Choir" honor for their collective score of 198 out of a possible 200. This award was given to the top-scoring vocal ensemble among the day's competitors. When the scores from all ensembles (middle school band, orchestra and chorus) were tabulated, GFS was the highest-scoring ensemble of the day.
"I was extremely proud of the Chorus' performance on Friday," notes Mrs. Flynn, who directs the Middle School music program, is chair of the GFS Performing Arts Department and serves as President of the Maryland Association of Music Educators. "The Chorus was focused and worked as a true ensemble to produce an incredible musical experience for the audience. Their unison blend was exquisite, and their harmony was balanced and full. It was truly an amazing day for me—one that I will never forget!"
The Chorus performed three selections: Allunde, Alluia (Swahili Lullaby), which was the non-adjudicated, warm-up song; and two adjudicated selections. They included a two-part piece entitled The Mountains Are Calling Me by Tom Shelton and a three-part piece entitled Throw Open the Shutters by Amy Bernon.
Judge O. David Dietz, retired Professor of Music at Penn State University, called the GFS group, an "extremely fine ensemble," awarding the Chorus 99 out of 100 points. Comments by Judge Lynn Drafall, Professor of Music at Penn State University, included: "Truly outstanding ensemble; Great work with so many important choral and vocal concepts." Her score matched Dr. Dietz's score.