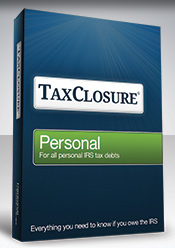 I felt a freedom I haven't felt in years
- Joe from Colorado
Los Angeles, CA (PRWEB) May 31, 2013
TaxClosure, the affordable online tutorial tax relief solution renowned for helping thousands of people successfully resolve their back tax debt, is now available via several of the nation's favorite retailers, with more to come.
TaxClosure was conceived by the experts at Taxpayers Clinic, a company that has helped thousands of taxpayers over the past 30 years get the relief they need from the IRS.
"In this recent economy, people have lost businesses and job income with no real answers or solutions to those issues, leaving them in debt not only to creditors, but the IRS as well." says Taxpayers Clinic representative, Charles Almond. "As a tax attorney with a 100% former IRS staff from the IRS's Collection Division, we have always been aware of and utilized a little known process the IRS has available for those who are currently in a situation where they simply have no way of paying their tax debt.
Attorneys and tax professionals are oftentimes an unaffordable option for many people. With their low cost, effective solution, TaxClosure aims to help the 30 million plus people who owe IRS taxes they can't afford to pay. TaxClosure exceeds expectations by creating a tool that can provide same-day relief. Taxpayers Clinic worked with New Reach Consulting, a technology firm based in Southern California known for creating consumer-friendly platforms to develop the online tutorial that walks taxpayers easily through the IRS relief process.
"We knew we needed to develop something that was both understandable to consumers, but also spoke to the IRS in their language and procedures. It took over three years to develop, but it was well worth the effort. Not only have we been able to help thousands of people from losing their income or property, we've also made the IRS happier by helping so many people get into good standing with them. It's been a win-win for all involved," says Almond.
The folks behind TaxClosure are even more excited that their same-day tax relief solution is now available at several major retailers, as it will reach and help even more people - something that drives the entire team.
"Finding an affordable path for people to easily become in good standing with the IRS and enable them to live their lives again without fear of the IRS is incredibly satisfying and fulfilling for all of us," says Almond. "When we hear success stories from people who have used TaxClosure, it makes all the hard work and effort payoff in ways we never imagined. It's a great feeling!"
About TaxClosure:
TaxClosure is a web-based interactive guide that saves taxpayers time and money by leading them step-by-step through the specific process used by the IRS to stop collection efforts against their back taxes. The TaxClosure methodology was developed over the last 30 years in cooperation with former IRS tax collectors, who speak the language of the IRS. Their insider knowledge guides taxpayers through the required IRS process that provides them with same-day relief with a simple phone call. In three simple steps, TaxClosure can help taxpayers resolve their IRS tax debt. For more information visit http://www.taxclosure.com/.