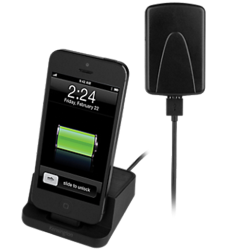 (PRWEB) May 29, 2013
Puremobile, a leader in brand name cell phone and gadget accessories, is excited to tell their customers that the iPhone 5 docking station you've been waiting for is ready to go. As one of the few Apple certified docking stations, the Kensington Desktop Charger with a 1-amp wall charger is already turning heads.
Puremobile's E-Marketing Manager, Nael Hatto, says that the popularity of the iPhone, and Apple products more generally, has changed the way accessory companies do business. "People love getting their hands on the newest accessories. Apple has revolutionized the way people look at technology and now it's like a rite of passage. Buying a new phone, case, whatever has become part of the experience of being a technophile. We're always excited to be part of it."
The Kensington Desktop Charger allows the user to charge and sync their iPhone 5 anywhere, any time. Kensington packs a lot into its little charger. It's true what they say about good things coming in small packages. "Puremobile likes to get out into the gadget world and see what's up and coming. When we see something we like, we grab it. Our customers know that and it's why we've been steadily gaining followers who know and trust us," explains Hatto.
Apple certified products come with the prestige of being part of the gadget world's inner sanctum. The Apple stamp of approval is as good as gold. "I feel good knowing that even though I work for a business and I sell accessories, I can still make someone's life a little easier. That's one of the best bits about working in the technology industry. I put myself in other people's shoes. I see what they want, and I help them get it."
Puremobile.com is a leader in gadget accessories. Our company provides Smartphone and tablet accessories with a personalized customer service that isn't available anywhere else. Whether it's a new iPhone case or a laptop bag, you can find it at Puremobile.