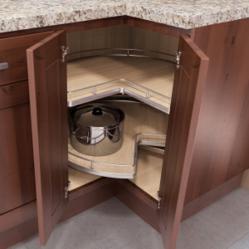 Even traditionalists are excited by these new design influences
Pompano Beach, FL (PRWEB) May 30, 2013
Each year, European influence takes a bigger step forward in securing a niche in the American kitchen design ideal. With sleek finishes, unconventional designs, and forward-thinking functionality, these products are at the forefront of modern kitchen design.
CabinetParts.com is launching the addition of just such a product line to their website.
The Vauth Sagel line features many standard kitchen storage products but remade in new and creative styles and finishes. Items such as the Recorner Maxx take an ordinary Lazy Susan design and make it extraordinary by creating it in a sleek maple and silver finish and removing the space-hogging center pole.
This is just one of the many innovations featured in the Vauth Sagel line.
"Even traditionalists are excited by these new design influences," says Pat Abbe, founder of CabinetParts.com. "They are a great blend of function and style and are influencing the future of kitchen design. I particularly like the HSA pantry units."
Look for the Vauth-Sagel line as well as many other innovative storage ideas at CabinetParts.com.
Call 800-857-8721 or visit CabinetParts.com for more information.