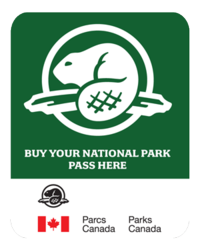 Banff National Park, Alberta (PRWEB) May 28, 2013
Visitors to Canada's iconic Banff National Park are now able to pay park entry fees and purchase annual passes to the famed Rocky Mountain park and UNESCO World Heritage Site online via Banff Lake Louise Tourism's website.
As one of Canada's most-visited and treasured attractions, Banff National Park welcomes over three million visitors from near and far through its gates annually, with the majority of them purchasing a pass to the park upon arrival at the entrance gates.
Parks Canada, in collaboration with Banff Lake Louise Tourism, has introduced an efficient online purchasing service, providing a convenient one-stop shopping experience for visitors.
"With so many wonderful activity and accommodation options available from our partners via banfflakelouise.com, the ability to purchase a park pass at the same time, from the same site, helps visitors by delivering a convenient and complete travel planning service," said Julie Canning, President & CEO of Banff Lake Louise Tourism.
Both day and annual Discovery Passes can be purchased up to 31 days prior to arrival at the same cost of those sold at the park gates. Based on number of individuals and length of stay, the new online service automatically calculates the most economical pass option and is compatible with iPhone and android devices.
"Parks Canada is pleased to work with Banff Lake Louise Tourism to offer a new way to purchase park passes," said Dave McDonough, Banff Field Unit Superintendent. "Online sales will facilitate quicker entry into the park, so that people can enjoy the unparalleled beauty and unique visitor experience opportunities awaiting them in Banff National Park."
With the busy summer season just ahead and the recent accolades bestowed upon both Banff and Lake Louise by travelers in TripAdvisor's 2013 Top Ten Destinations in Canada, there has never been a better time to purchase your park pass and enjoy easy access to Canada's first national park.
Park entry fees are charged at most national parks and national historic sites in Canada with revenues directed towards supporting visitor services and facilities.
-30 –
About Banff Lake Louise Tourism - Banff Lake Louise Tourism is a destination marketing organization for the Town of Banff, Community of Lake Louise and Banff National Park. Supporting over 800 businesses, our mission is to engage visitors in unrivalled, remarkable experiences with our membership. http://www.banfflakelouise.com
About Parks Canada- Parks Canada manages a Canada-wide family of 44 national parks, four national marine conservation areas and 167 national historic sites on behalf of Canadians. Parks Canada offers Canadians a myriad of opportunities to discover, enjoy and learn about Canada's natural wonders and about the places, persons and events that left their mark on our country's landscape, architecture, culture, economy, population and lifestyle. http://www.pc.gc.ca/banff