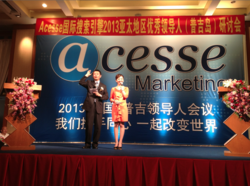 Minneapolis, MN (PRWEB) May 28, 2013
The one-day leadership conference hosted around 1,000 Acesse Leaders from Asia on Phuket Island, Thailand to celebrate the great success that Acesse has had over the past year and to recognize its top sales Leaders. Acesse is pleased to announce that the one-day conference was sold out thanks to its incredibly ambitious and loyal Leaders.
Acesse President, Bob Kinsella, CTO, James Wong and Top Leader Annie Zhang provided speeches. Founder Steve Renner, CFO Amy Ayd, and Corporate Council Peter Wold provided special video messages for the audience. The conference was followed by a formal dinner celebration.
The Acesse Fire Up Tour 2013 has completed its first two conferences in Tokyo, Japan and Phuket, Thailand. Its next destination will be Bangkok, Thailand where its conference will be open to the public. Acesse has been providing Internet Services for small businesses and individuals in Asia for many years. The Fire Up Tour is designed to spread the good news about Acesse's Products, Services, and Business Opportunity throughout more countries and communities in Asia.
Acesse will continue the tour by visiting Malaysia, Philippines, and finally Singapore after finishing up in Thailand. The tour has been very influential to individuals and small businesses throughout Asia and will continue to showcase the Acesse state-of-the-art Products and Services designed for small business.
The upcoming conferences on the Tour are free and the public is welcome to attend.
Acesse.Com a division of the Acesse Corporation, registered under the laws of the state of Nevada, USA.