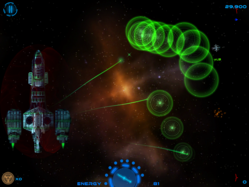 Says Pierre Roux, CEO and Founder of Empty Flask Games, "Starship Battle's greatest strength lies in its simplicity and strong graphics. It's a well-known and familiar game-play experience. "
Durham, NC (PRWEB) May 30, 2013
Empty Flask Games, a startup company based in North Carolina, announced today the launch of its newest game, Starship Battles on May 30, 2013. The smartphone app developer has created an arcade style game that breaks new ground for casual game-play with high resolution graphics and an engrossing—yet simple—immersive gaming experience for newcomers and old schoolers alike. Starship Battles features compelling and realistic 3D retina graphics and intuitive and entertaining game-play. Those, coupled with short pick and play sessions, make for endless re-playability.
Graphically, Starship Battles presents in full 3D with high resolution environments and science-fiction warships. In addition, game play is greatly enhanced by simple and responsive controls. As the player commandeers the Warship's battle-station, he is awarded fantastic visual effects as his weapons fire and enemy ships explode in brilliant 3D. The player can spend soft currency to upgrade and design his fleet. Designer ships come with visual personalization, War-Paint, and instant game-play bonuses.
At product launch, Starship Battles offers five highly detailed ships, each with five War-Paints. Additional ships will follow. The game begins with the avatar mounting only one Frigate to defend the galaxy against an infinite force of relentless aliens. The Cruiser, Destroyer, Battleship and Corvette wait to be purchased with minerals earned through game-play. Victories and achievements are posted at Game Center through social media integration, lending another dimension to extend competitive game-play..
Says Pierre Roux, CEO and Founder of Empty Flask Games, "Starship Battle's greatest strength lies in its simplicity and strong graphics. It's a well-known and familiar game-play experience."
Starship Battles is the second highly anticipated offering from Empty Flask Games. After the highly touted Infinite Warrior, the Empty Flask team, headed by Pierre Roux, has more in the pipeline for release in the coming months. Roux, a veteran video game artist and producer, hales from Marseille, France, and has worked at Namco Bandai, Electronic Arts, Quantic Dream Crystal Dynamic, Eidos Interactive, Vicious Cycle, Ubi Soft, and Cryo Interactive. Roux's strong art background and extensive gaming experience make him uniquely qualified to create an innovative and visually compelling gaming experience with Starship Battles. The visual quality of Starship Battles is reminiscent of the console game experience: its simplicity makes for a fun, engaging, and addictive game-play challenge.
Starship Battles will be available on IOS on May 30th, 2013. Android version will follow. For more about the game, visit Empty Flask Games at http://www.emptyflaskgames.com/starship-battles.html.