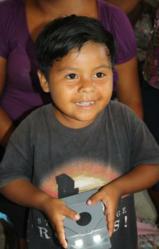 Nearly 1000 people burn to death every day as a result of using kerosene lanterns. Most of them are children
Cayo District, Belize (PRWEB) May 28, 2013
According to the World Health Organization,http://www.who.int/ipcs/emergencies/kerosene.pdf nearly one thousand people burn to death every day from kerosene lamps. Most of them are under 14 years of age. Due to the generous donation through the 1% Club the Grid Earth Project was able to change the lives of thousands of people last week. Formerly using kerosene and other dangerous light sources, many people, mostly children, have been killed and injured in these villages.
Cayo District is a beautiful place full of wonderful children who, with the proper education, can accomplish anything they desire. Studying by kerosene and candle is difficult at best. The students are only able to tolerate the fumes and smoke for less than an hour.
With solar powered LED lights from the Grid Earth Project, students are able to study for hours, greatly increasing their ability to learn and succeed. It also provides the parents the ability to pursue economic opportunities that would otherwise not be possible in the low light conditions provided by lanterns and candles. The World Health Organization estimates that an average kerosene lantern emits on 1/30th of the light required for reading.
In one day the Villages of Armenia, St. Mathews and Los Tambos took a 150 year leap into the future. Thousands of lives were improved. No longer will these children be burned needlessly while learning to read. No longer will they breath toxic fumes in order to acquire an education.
The Grid Earth Project would like to express our gratitude to the 1%Club and to Waka Waka for making this solar lamp distribution possible. We would also like to thank the Ministry of Labour of Belize for their invaluable assistance in these distributions.
Currently the Grid Earth Project is working with the 1% Club to provide solar lights for the Jungle School in Guatemala. A former orphanage which burned down due to candles being left unattended. Four children died in the fire. To help support the Jungle School Project in Guatemala please visit the 1% Club link to this project: http://onepercentclub.com/projects/SolarLightsJungleSchool