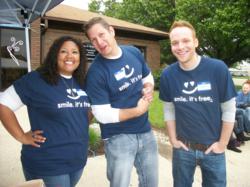 We are humbled and inspired by the kindness and flexibility of every person who gave of their time, talents and treasures... - Eric Henize, DDS
Cincinnati, OH (PRWEB) May 29, 2013
The Team Ohio branch of Dentistry from the Heart provided more than $148,000 of free dental services on Saturday May 11th in a rare multi-location event that served 304 patients.
Four offices, led by the Blue Ash office of Dr. Eric Henize, provided free dental care on a first-come, first-served basis throughout the day, serving patients with no qualifications needed. The other locations included Dr. Doug Moorehead in Blue Ash, Dr. Thomas Phillips in Mt. Washington and Dr. Rachelle Boudreau in Springdale. These offices along others from Middletown, Northern Kentucky, and even as far as Eaton, OH became a collection of dental offices, known as Team Ohio, and upped the total of 100 patients and $31,500 in services of the last event held in Sept. 2011 by Dr. Henize's office alone.
"We are humbled and inspired by the kindness and flexibility of every person who gave of their time, talents, and treasures to provide everything from door prizes, food service and traffic cones to tents, dental supplies, and patient care," said Dr. Eric Henize, DDS of Blue Ash.
Dentistry from the Heart is a national organization founded by Florida dentist Vince Monticciolo. Its mission is to encourage and assist dentists nationwide in providing free dental care to adults who need it.
Dr. Henize's office provided over $52,000 of care for 77 individuals earlier this month alone. Everyone was helped, and no one had to be turned away.
Team Ohio has committed to provide this type of care on a biennial basis and will be leading a group of offices across the country to join their efforts. The next event is tentatively scheduled for October of this year.
Complete Health Dentistry
Dr. Eric Henize and Associates
4723 Cornell Rd.
Cincinnati, OH 45241