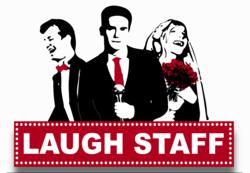 Your speech could be the catalyst that helps you find a new job
Cleveland, OH (PRWEB) May 30, 2013
Laugh Staff, the leading provider of best man speech writing and editing services, was recently endorsed by a highly respected author, Tim Augustine. Laugh Staff is honored for the endorsement and reaffirms their commitment to provide quality speech writing services to their customers.
Speaking publicly is a highly revered talent that translates well into many aspects of life: job interviews, relationships, presentations and toasts. Even with the benefits of polishing such a skill, public speaking is still the number one fear for many people.
"Don't under estimate the power of a first impression," said Augustine. "Your speech could be the catalyst that helps you find a new job, land a date or forever plant your message in the hearts of the bride and groom. Leverage the whit, experience and expertise of the team at Laugh Staff to craft your perfect speech and land that critical first impression!"
Tim Augustine, author of How Hard Are You Knocking? Landing a Job in a Rebounding Economy, understands what it takes to be a strategic marketer as well as a successful public speaker. Augustine was the founder of Peoples Strategies LLC which is a management consulting firm focused on developing and implementing people strategies which include culture marketing programs, training and development processes, employee engagement and communication programs, and compensation and benefit assessment. Augustine is a master at knowing how to land a job as well as moving up in a career path; he knows that the ability of public speaking extends outside of the office.
For more information about Laugh Staff Inc. and their speech writing services visit http://www.laughstaff.com or email info(at)laughstaff(dot)com.
About Laugh Staff:
Laugh Staff, Inc. was founded in 2012 by a team of comedians and writers in Cleveland, Ohio. Laugh Staff helps their clients with best man speeches as well as providing best man speech examplesbest man speech examples on their blog. They assist best men and maids of honor in speech-editing, speech writing, and provide training on speech delivery. Recognizing the importance of the big day, Laugh Staff's professional comedians work with best men and maids of honor to ensure they make a lasting impression.